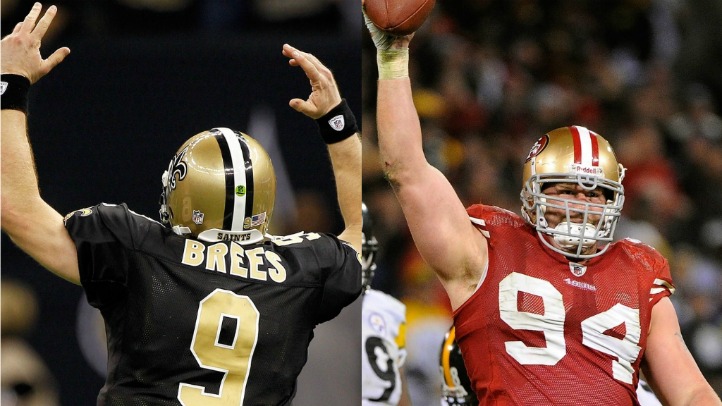 There's no shortage of compelling storylines in the NFL this weekend.
Unless you've been living under a rock with no access to ESPN, you're surely aware that Tim Tebow and Tom Brady are playing in New England. That would be enough to have everyone's hearts fluttering, but when you throw in former Broncos head coach Josh McDaniels, the man who brought Tebow to Denver, getting hired by the Patriots to assist them this week you get an even bigger bump in the interest meter.
The Packers and Giants are playing a rematch of their entertaining regular season game while also causing some to think back to the NFC Championship Game in 2008 even though Brett Favre played that game and, at last check, he's still blessedly retired without access to a cell phone camera. Aaron Rodgers is the NFL MVP, the Giants are one of the hottest teams in football and that makes for a pretty heady soup.
And Joe Flacco just wants to be loved. Is that so wrong?
Where does that leave the Saints and the 49ers? Well, there was a flap during preseason because of how much the Saints blitzed, but that's not why the first game on Saturday might just be the most interesting game of them all. Nowhere else this weekend do you have two teams that have achieved so much using totally different means.
It is the first playoff game since the 1950 NFL Championship Game to pit a team averaging more than 34 points per game on offense against a team allowing fewer than 15 points per game. There has never been anything like the Saints passing game in NFL history while the 49ers have taken on the pugnacious spirit of Jim Harbaugh to put forth a defense that became an immovable object by playing with irresistable force.
The mouth waters at what this matchup might bring, especially since the Saints are playing outside of their Superdome comfort zone. Can stud inside linebackers Patrick Willis and NaVorro Bowman stick with the Saints' all-world tight end Jimmy Graham? Will Drew Brees feel pressure from Aldon Smith and Justin Smith or will he have just enough time to pick apart a defense that hasn't been beaten up all year? Does the Saints running game have enough oomph to help the Saints stay on track outdoors or will it be all up to Brees?
Watching the way those matchups play out will be fascinating, but, as is often the case in games like this, the final score will likely be determined by the rest of the matchup. The 49ers offense, while not high-powered by any means, has been very good at avoiding turnovers all season. The Saints defense, while not stingy by any means, has been very good at forcing turnovers that give their offense extra shots to ring up points.
49ers quarterback Alex Smith will have a lot to say about which side wins that battle. The Niners have built their entire team around lessening Smith's impact on the proceedings, but there will come a time on Saturday when he has to make a play. The Saints offense might be slowed down, but it is going to be stopped in its tracks. Smith is going to have to get his team points and he'll have to avoid handing any more to New Orleans by turning the ball over.
Call it a hunch, but something is going to give on that side of the ball and, when it does, the team that makes the break will wind up winning the game.
Josh Alper is a writer living in New York City. You can follow him on Twitter and he is also a contributor to Pro Football Talk.
Copyright FREEL - NBC Local Media