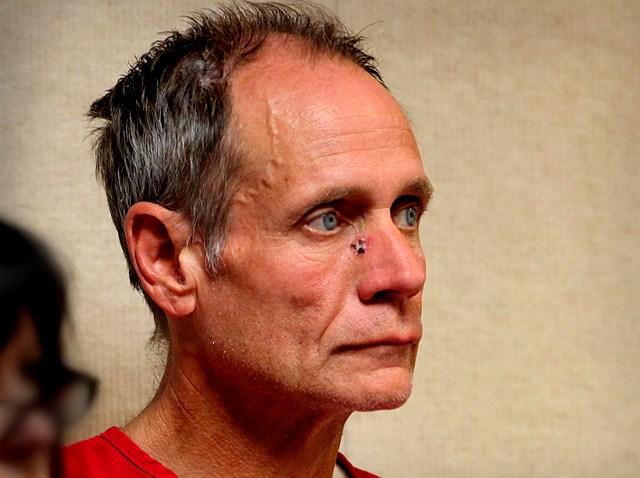 Phillip Garrido, Jaycee Lee Dugard's alleged kidnapper, is also a musician, a longtime acquaintance says.
But nothing about his song stylings will change the disturbing image of the man who is charged with kidnapping the South Lake Tahoe girl 18 years ago, raping her, and fathering two children with her. (Garrido had pled not guilty to 29 felony counts.)
Marc Lister, a former glass-shop owner in Concord, Calif., says Garrido gave him two CDs of music filled with disturbing lyrics some years ago, Henry Lee reports in the San Francisco Chronicle.
And Garrido's career was listed as "musician" in a Reno police report of the 1976 rape which landed Garrido in Leavenworth prison, writes John Simerman in the Contra Costa Times. Antioch realtor Deepal Karunaratne, like Lister a customer of Garrido's printing business, told the Times that Garrido was "a very good singer."
What kind of singer, and what kind of music? Here are some of the lyrics Lister shared with reporters:
For every little girl in the world
They want to be in love, yeah
You're just the same, go play a game
Just tell me that you want me.

The way she walks, yeah, subtle, sexy. What can I do?
I fall victim too. A little child, yeah, look what you do.

Leavenworth's a long long way from Nashville
Here I go, tra-la-la
But I get my jollies in a motorcar, feelin' good Mother in your eyes, deepness in your pride
played well when I first met 'ya
Saved from the days, I kept saving you, but in the darkness you remain
Everybody pays in the human race/Being abused and used as devices.

I will tell you about the only one
She's a dream, dream come true
With a note saying you're my baby blue.
Garrido told Lister the songs were a way of taking some kind of message to the world -- like the blog he filled with religious rantings. The music may be the message, but not the one this malevolent musician intended.