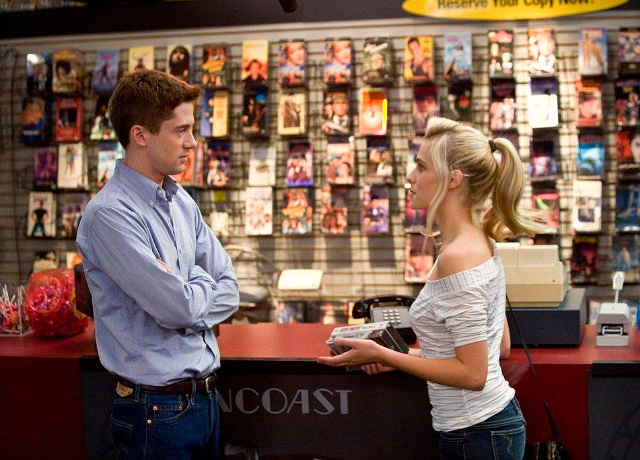 There's nothing wrong with a lovingly nostalgic 80s throwback or a one-night-to-live-the-dream teen romp. But there's a reason "Take Me Home Tonight" sat on Universal's shelf for four years before Relativity stepped in to release it, and it's got nothing to do with ever-present white powder or the sight of Angie Everhart's bare bosoms as the film's star and executive producer Topher Grace would have you believe.
The film, previously titled "Kids in America," enfolds over one wild Labor Day weekend in 1988 and stars Grace as Matt Franklin, a recent MIT grad living at home with his twin sister (Anna Faris) and aimlessly toiling at a Suncoast video store when he runs into his high school dream girl, Tori Frederking ("I am Number Four" breakout star Teresa Palmer) who invites him to a totally bitchin' party. Enlisting his sister and bonkers best friend (Dan Fogler, "Fanboys," going over the top and down the other side), Matt sets out to win the affections of a girl he's loved from afar, despite her overt eagerness for his attention, since high school began.
Sound familiar? That's because every second of "Take Me Home Tonight" is lifted from another, better film - and not even just 80s films, as "Can't Hardly Wait" is borrowed from heavily. And, yes, even a film starring Ethan Embry and Jennifer Love Hewitt is better and more enjoyable than what Grace created here.
Conceived by the once-promising young star (remember Grace in "Traffic"?) and penned by Jeff and Jackie Filgo, who wrote Grace's star-making sitcom, "That 70s Show," what was intended to be a love letter to the Me Decade but ends up merely a cheap lemon with too many stolen parts. Grace's love-struck anti-hero at a career crossroads? Lloyd Dobler called, he wants his shtick back. The destruction of a fancy car? Ferris did that one way better. One night to make our romantic dreams come true? "Sixteen Candles" all the way. Even the white Rabbit parked in front of the party house is from "Can't Buy Me Love."
Predictable, unnecessarily raunchy and uncomfortably unfunny, the timing of the film's release obviously attempts to capitalize on Palmer's newfound heat thanks to her winning charisma and innate talent. Unfortunately, this is one film she probably wishes had stayed in cold storage, where it belonged.