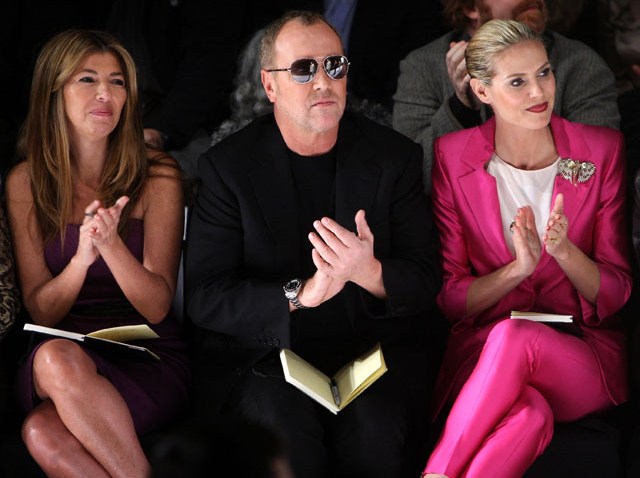 Everyone is still reeling from the difficult ordeal of working in teams last week. Just when they think they will be able to work independently on a vision of their own making, they receive the rude awakening that the MODELS are going to be their "clients" for the challenge. The designers are to design looks for the models to wear to an industry event, and they're to do it in one day, for $100.
Of course, many of the models are loons, so their design desires are appropriately crazy and all over the place. Shirin's model, for example, initially wants a royal blue and gold jumpsuit. Early standouts include Christopher, Althea and Epperson, who are showing real innovation in the time allowed. Tim's is concerned, however, about Logan and Carol Hannah. When the models arrive, their reactions are generally positive, though don't think I didn't notice that Johnny is trying to jump back into his spiral of doom. Mostly, everyone is really stressed about the time element.
Runway day dawns and the nerves increase. The sewing machines are almost in flames. Pre-runway interviews include quite a bit of backbiting about how terrible everyone else's designs are. When the show starts, we see that at least a few of them were right. In a big surprise, Carol Hannah knocked her dress out of the park. Epperson's dress is a huge hit, as is Althea's suit. Logan's fears of making a tacky prom dress unfortunately became a reality, and Johnny's dress comes off as, the kiss of death, "bridesmaid." Though, truly, Althea's suit is not coming off well on my TV, it must be awesome, because she is named the winner. Finally, as we all knew would have to happen eventually, Qristyl is sent home. Brutal guest judge Jennifer Rade makes her send-off particularly straightforward. Her black dress was boring and, the judges said, looked cheap.
For more from Television Without Pity:
Copyright TVWOP - Television Without Pity