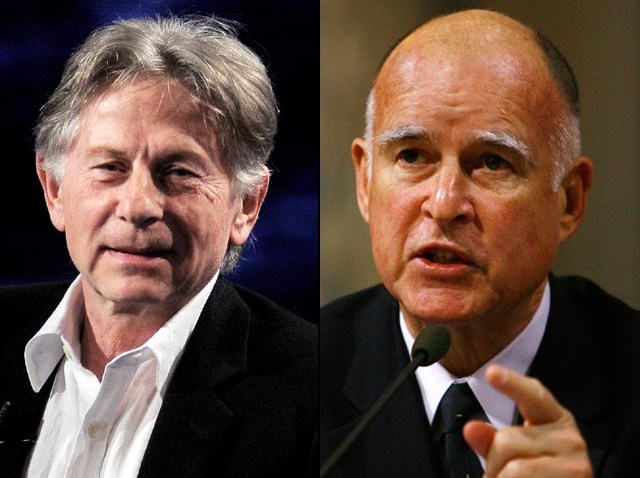 Right now, the Roman Polanski case is primarily stuck in the legal and cultural: His attorneys are fighting extradition back to the United States. His supporters among the Hollywood elite are circulating petitions demanding his release. Outraged critics on the left and right are displaying their venom against the Polanski partisans. Whoopi Goldberg takes it into the realm of "depends on the definition of rape." And on it goes.
But, in a not-too-short a while, this case could well have political ramifications.
First, there's state California Attorney General Jerry Brown. After months of speculation, he filed papers Wednesday to explore a run for governor in 2010. The current favorite to win the Democratic nomination, he would also likely to be favored against whomever wins the Republican nomination (including ex-eBay CEO Meg Whitman). However, as the most populous state in the Union -- and one of the largest geographically -- California requires that a candidate running statewide have boatloads of cash for television advertising. As a Democrat, Jerry Brown will need to tap into Hollywood's donor stream.
So, what should he say about Roman Polanski? Remember, Brown is seeking to go back to the state house he occupied nearly three decades ago, when he was one of the youngest state chief execs in history. He was then known as "Governor Moonbeam" and dating Linda Ronstadt. He's now an older and wiser figure, having served as mayor of Oakland before his current role as AG. He's definitely not the reflexive cultural liberal he was 30 years ago.
That said, reality is reality. If he comes out in full force behind the LA County district attorney pursuit of Polanski, Brown risks losing some possible big names in Hollywood -- like Harvey Weinstein, one of the primary figures behind the "Free Roman" movement. On the other hand, if he looks like he's saddling too much close to the Hollywood crowd, he might lose major valuable middle-class support. Not an enviable spot in which to be.
There's also another kind of politics too that could impact the possible future plans of the current governor. When he announced his initial run for governor seven years ago, Arnold Schwarzenegger declared that his Hollywood career was over (as it happened, his timing was actually pretty good given that Terminator III: Rise of the Machines was a relative flop). But now that he has only about 15 months left in his term, he's got to think about what he want to do next. His days as ultra-super action hero are undoubtedly over, but there's nothing stopping him from either identifying a comedy in which he might be able to star -- or take on a featured role in a drama/action flick with a younger (read: cuter, buffer, more marketable) male lead.
But to do that, will the Hollywood Mafia demand that Schwarzenegger step up to the plate to help out Polanski? Will they demand that he try to squash the prosecution? Will they demand a pardon -- either now or just before Schwarzenegger leaves office? At this point, Schwarzenegger's office is keeping a low profile on the matter. If he refuses to step in at any point, he could be seriously wounding any hope he has of returning to the big screen (assuming that he might still harbor such thoughts).
In certain ways, this whole plot could have made a great movie for Polanski to direct: Creative figure returns from exile to upset the cultural and political order!! How will it end? How will it end?
New York writer Robert A. George blogs at Ragged Thots. Follow him on Twitter.
Copyright FREEL - NBC Local Media