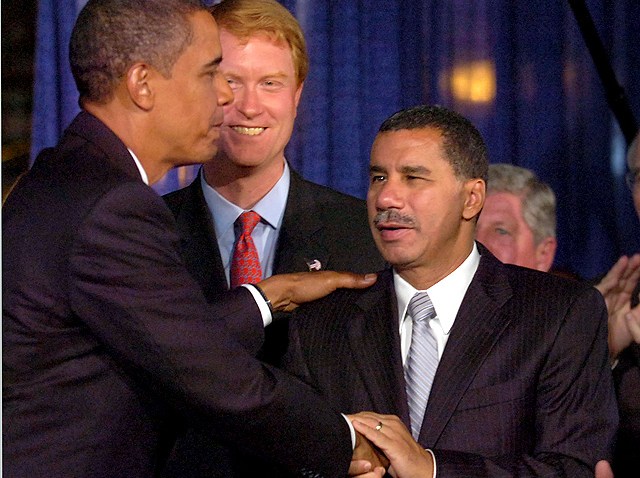 David Paterson isn't exactly trying to bury the hatchet after President Obama reportedly tried to coax the unpopular New York governor out of running to keep his seat.
With Democrats worried that Paterson's flagging approval ratings could cost them the governor's mansion, aides close to Obama have reportedly urged the governor, who took office when Eliot Spitzer resigned amid a hooker scandal, to step aside and let Attorney general Andrew Cuomo be the party's standard bearer in 2010.
But Paterson, who shared an awkward moment this week when Obama introduced him and Cuomo at an upstate appearance, gushing over Cuomo, said he's not the only one having problems in office.

"If you look at it from [the Obama Administration's] perspective, they haven't exactly been able to govern in the first year of their administration in the way that other administrations have, where you would have, theoretically, a period in which the new administration is allowed to pass the needed pieces of legislation," Paterson said.

The Obama Administration has previously bristled at Paterson's penchant for comparing his problems to Obama's, including his claim earlier this month that both men face unwarranted political opposition because they are black.
This time, the White House struck back, with an administration official noting that Obama's record of getting legislation he backs passed into law is unblemished.

Paterson aide Peter Kauffmann told Politico that his boss wasn't putting down Obama's record, but simply explaining why Obama would be so focused on having Democratic governors in place to help with congressional redistricting ahead of the midterm elections, when Republicans hope to cut into the Democrats' House majority.

Get more: Politico