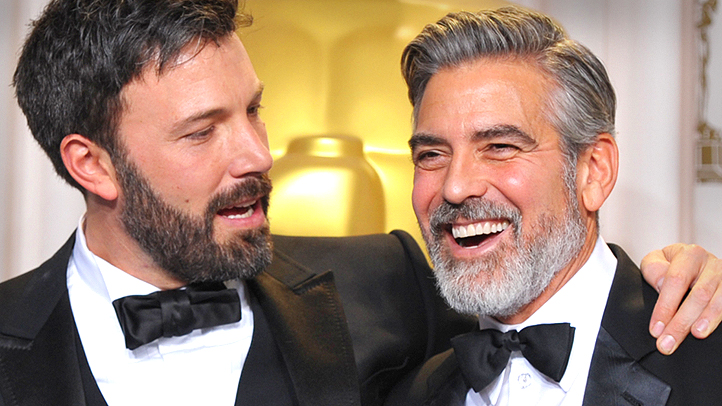 In a long night of few surprises (Michelle Obama assisting Jack Nicholson!), "Argo" was named Best Picture at the 85th Annual Academy Awards Sunday night.
Ben Affleck's CIA thriller about the Iran hostage crisis managed to grab the top prize while not being included in the director category. The last time such an upset occurred was in 1989 when "Driving Miss Daisy" took best picture and the directing award went to Oliver Stone for "Born on the Fourth of July."
Announced by Nicholson (on hand at the Dolby Theater in Hollywood) and the first lady via satellite from the White House, the "Argo" producers -- Affleck, Grant Heslov and George Clooney -- took the stage to grasp their statues at the end of what felt like a lengthy, often bloated ceremony.
Calling fellow nominee Steven Spielberg a "genius" ("Lincoln" was a favorite in the category), Affleck delivered a moving acceptance speech in which he thanked family and coworkers before reminding viewers of his previous win (screenplay) for "Good Will Hunting" in 1998.
"I was here years ago or something," Affleck said. "I had no idea what I was doing ... I never thought I would be back here."
Fighting his emotions, the actor/director/producer went on to say that, "It doesn't matter how you get knocked down in life, cuz that's gonna happen. All that matters is that you gotta get up." "Argo" also took honors for film editing and adapted screenplay.
Oscars 2013: Best and Worst Dressed
The shutout continued for Spielberg and "Lincoln" in the directing category. "Life of Pi" director Ang Lee was awarded the prize in what was a replay of 2006, which saw Lee take the same category for "Brokeback Mountain" while "Crash" was awarded best picture. "Thank you movie god," Lee said in accepting the Oscar. "I really need to share this with all three thousand who worked with me on "Life of Pi.'"
"Pi" took four awards in all, more than any other movie Sunday night. As well as directing, the film's haul consisted of original score, visual effects and cinematography.
Best actress winner Jennifer Lawrence took a minor tumble thanks to her voluminous Dior gown as she made her way up the stairs to claim the statue for her role in "Silver Linings Playbook."
"You guys are standing up because you feel bad that I fell," she said.
Lawrence's win didn't come as a shock in the acting categories, with the majority of Oscars being handed to favorites. Perhaps the biggest favorite heading into Hollywood's biggest night was Daniel Day-Lewis for "Lincoln."
Cracking wise that he had originally committed to play Margaret Thatcher and that it was Meryl Streep who was Spielberg's first choice to play the titular role of "Lincoln," Lewis walked away with his third best actor win (a record) following statues for 1990's "My Left Foot" and "There Will Be Blood" in 2008.
Earlier, Christoph Waltz beat out a deep field of previous Oscar winners to take best supporting actor for his role in Quentin Tarantino's "Django Unchained." It was another Tarantino film, "Inglourious Basterds," for which Waltz won the same award in 2009. The director himself would later be called onstage to accept the award for original screenplay for "Django."
Oscars 2013: Full List of Winners
By the midpoint of the telecast, the musical adaption of the Victor Hugo French revolution-set novel "Les Miserables" was on to its third statue thanks to Anne Hathaway's win for best supporting actress.
After dominating the awards season for her portrayal of the doomed prostitute Fantine, Hathaway noted her Oscar win by saying, "it came true." She wrapped up the speech by saying, "Here's hoping that someday in the not too distant future the misfortunes of Fantine will only be found in stories and not in real life."
"Les Mis" also scored wins in the sound mixing and makeup and hairstyling categories.
Oscars also went to the French-language film from Austria, "Amour," for best foreign language film, Pixar's "Brave" for best animated feature film, best animated short "Paperman" and "Anna Karenina" for costume design.
First time host Seth MacFarlane opened the proceedings by citing some of the big questions hovering over the ceremony: Ben Affleck's exclusion from the best director category, Daniel Day-Lewis' method acting approach to "Lincoln," and whether or not he could make Tommy Lee Jones laugh.
The "Family Guy" creator played it relatively safe with his early remarks -- so safe that producers employed a pre-recorded William Shatner to don his Captain Kirk uniform and pretend to be the iconic character beamed back from the future to stop MacFarlane messing up the ceremony.
Shatner went so far as to publicly wish for Amy Poehler and Tina Fey (whose hosting gig at the Golden Globes in January received wide acclaim) to take the reins. A taped sketch in which MacFarlane wore the wimple and habit of Sister Betril from "The Flying Nun" -- in front of Sally Field, no less -- garnered the most laughs from the seated A-list crowd.
Billed as a celebration of movies and their music, big performances were the order of the evening.
Previous winner and Bond girl Halle Berry introduced a visual and musical mash-up of 50 years of 007. Beginning with Monty Norman's classic James Bond theme, the montage touched lightly on the films before Dame Shirley Bassey took the stage to belt out perhaps the Bond song she is most known for, "Goldfinger." The 76-year-old diva -- in her first Academy Award appearance -- brought the audience to their feet as she powerfully drew out the final note.
Oscars Red Carpet: Beyond the Pale
The Bond celebration was a successful melding of the image and the sound. While aurally pleasing, the next big musical number played out more like an homage to Broadway than the silver screen. Catherine Zeta-Jones slipped into her "Chicago" best to slink about the stage as she sang "All That Jazz," before Jennifer Hudson proved her vocal prowess with a stunning rendition of "And I Am Telling You I'm Not Going" from "Dreamgirls."
Next up it was the gang from "Les Miserables," led by Hugh Jackman singing "Suddenly" before he was joined onstage by his fellow castmembers (including Russell Crowe, Sacha Baron Cohen, Helena Bonham Carter, Eddie Redmayne, Amanda Seyfried, Samantha Barks and Anne Hathaway) for "One Day More." The performance was like something from a telecast of the Tonys.
The night's more straightforward musical numbers belonged to Adele and Barbra Streisand. For her first Oscar gig in 36 years, Streisand ended the In Memoriam segment by singing "The Way We Were," a song written by her close friend and collaborator Marvin Hamlisch who passed away in 2012. Grammy winner Adele performed the theme song to "Skyfall," which went on to score the Oscar in the original song category.
As the "Argo" crew headed into the night to celebrate their win and the clock ticked perilously close to midnight, MacFarlane was joined onstage by Kristen Chenowith for one last tongue-in-cheek song and dance - this time to honor (and name) the evening's losers.