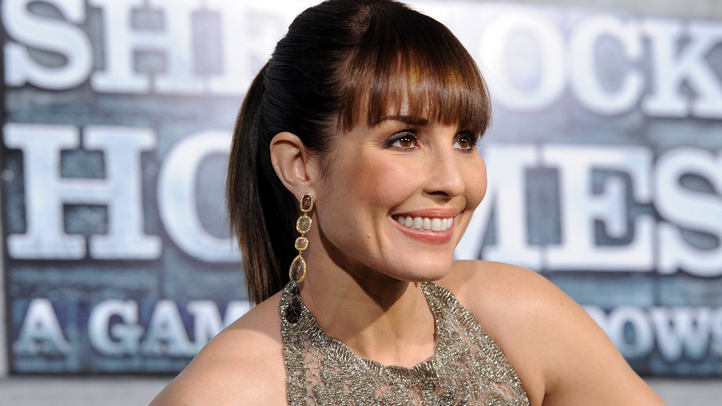 She was the first "Girl With the Dragon Tattoo," and now Noomi Rapace is the girl telling Sherlock Holmes' fortune.
Before the American incarnation of the bestselling novel rolled film, Swedish actress Noomi Rapace made her cinematic mark playing Lisbeth Salander in the original film adaptations of Stieg Larsson's bestselling "Millennium series" in their shared native country. She duly impressed Hollywood enough to land two coveted English-language roles in hotly anticipated films: Ridley Scott's sci-fi epic "Prometheus" and as a Gypsy ally of the master detective in "Sherlock Holmes: A Game of Shadows."
"Sherlock" director Guy Ritchie says that for the returning players, the choice to cast Rapace in the sequel was, well, elementary. "I think we all saw 'The Girl with the Dragon Tattoo' at about the same time, and there was sort of an unconscious collective agreement by the time we got on the phone about Noomi," Ritchie explains. "After a very short meeting with Noomi, our desires were confirmed, and we pretty much wanted Noomi from there on. She ticked all the boxes, and she took it pretty seriously."
Seriously enough, in fact, to hold her own on screen opposite Robert Downey, Jr., and Jude Law. Rapace gives PopcornBiz the lowdown on entering modern Hollywood via Victorian London.
On landing the role:
"For most movies I'd done before, I've done a lot of preparation. I've known about them long before, and I've prepped and I've changed my body and I've done research, all things you can imagine before. But on this one, I met Robert and Susan Downey maybe six or seven weeks before we started to shoot. It was a good, quick meeting in L.A. We didn't really talk about Sherlock Holmes, but we talked about movies and dreams. I remember Robert asking me: How do you want to work, and what movies do you want to make? It was really super-intense, and I walked out of that meeting and called my manager. I was like, 'Wow, those two are amazing – I would love to work with them!' Then Warner Brothers wanted to send me over to London to meet Guy Ritchie. I was there for an hour, we talked and it was really also very intense. I came out of that meeting, and I was like, 'Whoa, I would love to work with those people,' but I didn't expect anything. I think it was like a week later, two weeks later, they wanted me to do this role. Then we started to shoot like three weeks later, so I just kind of jumped into it."
On finding her groove between Holmes, Watson and her director:
"I was really nervous before. It was my first English-speaking movie, and I didn't talk English; I didn't speak English three years ago, so I didn't really know how to deal with it and how it would be for me. They were all very open. It was very playful and easy and creative, so it felt like you embraced my ideas, and it felt like we kind of created this character together in a way. I was surprised the way they just opened their family for me and I became one of the boys, pretty much. And the way Guy works, I don't remember a single situation when I came on set and Guy said, 'Okay, this is what I want you to do – exactly.' He always asked me: 'How do you want to do this, Noomi? How do you see this? What do you think Simza would've done?' That's pretty much the way I love to work, in a very searching, creative, open way."
On hitting the accelerator on her Hollywood career:
"I think I'm really spoiled now… I've heard that you're waiting around, and you sit in your trailer and wait, then you go in and do something and then you go back to your trailer and wait. I don't remember that I was waiting at all. I was extremely happy, and then I went amazingly enough straight into Ridley Scott's film – I started to prep 'Prometheus' straight after, and I was in that movie for five or six months. So it was a really intense year, and now I'm here! I'm really grateful for those people that believed in me and gave me the chance and invited me to this journey."
"Sherlock Holmes: A Game of Shadows" opens everywhere Friday