Park Forest Police Officer Craig Taylor, charged with reckless conduct in the shooting of a 95-year-old World War II vet, testified Thursday that he had no idea how old the man was when a police call sent him to the Victory Center Assisted Living facility.
Taylor was called to the scene after John Wrana became combative with emergency medical technicians trying to take him to the hospital for medical treatment, according to prosecutors.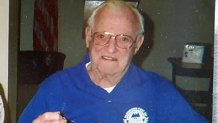 Taylor testified that he was to be the second man in a so-called "stack" procedure, a backup for his commander, whose Taser misfired while he was trying to subdue Wrana, who allegedly refused to cooperate with police and pointed a kitchen knife at the officers.
[[288468051, C]]
"When I saw Mr. Wrana with that knife in his hand," Taylor said, "threatening to kill me and my fellow officers, I was afraid. I thought I had to do something."
He fired his less-lethal beanbag weapon five times, striking Wrana four times. Wrana later died from internal abdominal bleeding, officials said.
On Wednesday, an expert witnesses on police tactics testified Taylor's actions were unreasonable and unnecessary, arguing there was no imminent threat.
Before Taylor took the stand, Wrana's family came forward to express their disappointment with the way defense attorneys have portrayed him in court.
"We are greatly saddened by the false statements disparaging our grandfather under the cloak of providing the best defense," said Wrana's grandson Tom Magnerson.
In particular, the family says they're angry with Attorney Terry Ekl for saying that Wrana, after he was injured, told doctors he wanted to die.
"We have family members who are objecting to what they say happened when they don't have the facts," Ekl said.
Among the defense witnesses was Dr. Steven Salzman, the trauma surgeon who tried to treat Wrana.
He told the judge that there was no question he could have fixed the injuries from the beanbag gun, but repeatedly, his patient, who had a do not resuscitate order, told him to let him die.
"He did not want to die in the way that Park Forest police chose for him, but he did want to live with the dignity head for 95 years," said Magnerson.