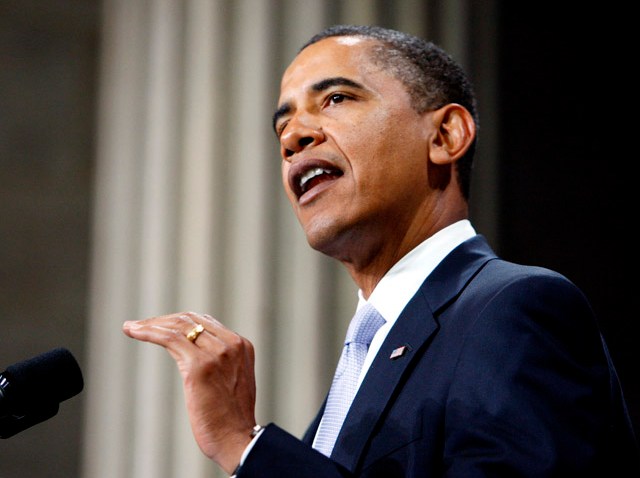 PITTSBURGH – Kicking off a day of outreach to blue-collar America, President Barack Obama defended his bailout of the auto industry, saying "the success of our economy depended on it."

"Our belief was that if GM retooled and reinvented itself for the 21st century, it would be good for American workers, good for American manufacturing, and good for America's economy," Obama said. "I'm pleased to report that's exactly what's begun to happen at this plant and at others."

"And I'll tell you what: I will double down on the American people and all of you any day of the week," Obama added.

Obama also announced that his administration has finalized a new national standard for greenhouse gas emissions from automobiles and higher fuel-efficiency standards for cars and trucks. The proposed new regulations call for the average fuel efficiency for new vehicles to reach 35.5 miles per gallon by 2016.

"For too long, our auto companies faced uncertain and conflicting fuel economy standards that made it difficult for you to plan down the road," Obama said. The national standard will provide the auto industry with "long-overdue clarity, stability, and predictability."

Obama announced the new policy, which is intended to create more fuel-efficient cars, at a General Motors plant near Youngstown, Ohio. The standards have been welcomed by automakers and environmentalists alike. Obama first revealed the plans to create streamlined restrictions – as opposed to different ones from state governments and federal agencies – in May.

After meeting privately with General Motors workers in Lordstown and then addressing them on the factory floor, Obama planned to fly to Pittsburgh to speak at the AFL-CIO conference.

In Ohio, Obama continued to walk the tightrope of touting what he believes are the successes in his economic policy while being wary that unemployment is inching toward the double digits. His policies, he said, "helped stop an economic freefall."

At the auto plant, Obama noted that 150 of workers came back to work yesterday, and more than 1,000 will be coming back to work in less than three weeks. Obama also noted that the plant will begin production of the Chevy Cruze, a new car that will get more than 40 miles per gallon.

Obama also highlighted the success of the cash for clunkers program. The Commerce Department revealed numbers Tuesday that showed auto sales were up 12 percent in August.

Obama's Rust Belt swing comes just days after his administration announced that it would impose tariffs on Chinese tires, a move that American labor lauded but that has tipped off a potential trade war with Beijing, which as threatened to retaliate.

But Obama makes the case that his economic policies are putting the country back on the right track after unemployment took an unexpected jump closer to 10 percent in August and on the heels of a new Washington Post-ABC News Poll that Americans are nearly split on his handling of the economy, with 51 percent of them approving.

Joining the president on his trip to Ohio were Sen. Sherrod Brown (D-Ohio) and the state's Democratic Reps. Tim Ryan, Betty Sutton and Charlie Wilson.

Brown pointed to the success at the GM plant in his home state as more than "just an upward blip."

"What's happening in Lordstown is what the recovery is all about," Brown told reporters en route to his home state. "This is the beginning of something."

The national policy on emissions standards will toughen federal mileage standards and provide streamlined guidelines for automakers.

The auto industry has long wanted a national emissions standard to reduce the cost of complying with a variety of them, from Department of Transportation, the Environmental Protection Agency and states such as California, which had raised the bar on restrictions.

California officials are supportive of Obama's effort. The national policy is similar to the one the state had fought to implement.

Transportation Secretary Ray LaHood and EPA administrator Lisa Jackson briefed reporters on the new standards Tuesday.
Copyright POLIT - Politico