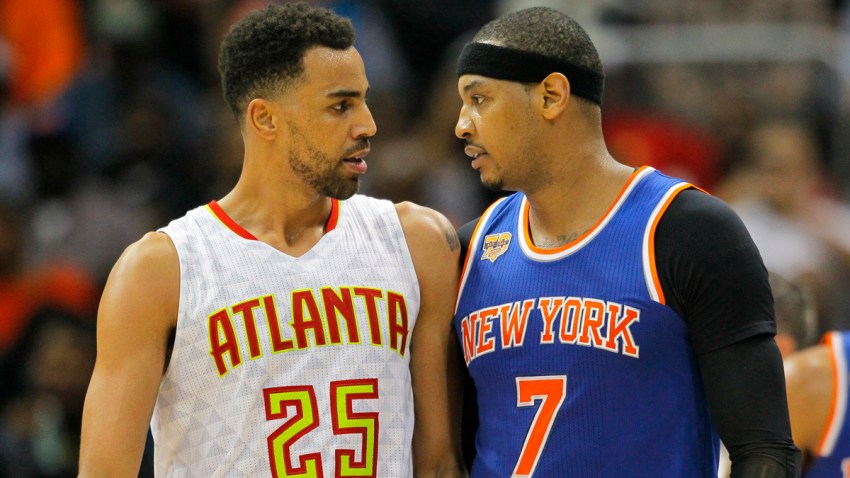 Carmelo Anthony was ejected from a New York Knicks game on Wednesday night after he elbowed the Atlanta Hawks' Thabo Sefolosha in the neck while fighting for a rebound.
"He threw a punch," Sefolosha said. "A fist right to my face. It's whatever. The referee - I'm glad they looked back at it - they made the right call."
U.S. & World
The Hawks took advantage of Anthony's second-quarter ejection to beat the New York Knicks 102-98 in overtime.
Anthony refused to speak with reporters as he walked slowly to board the team bus after the game.
It was a chippy, emotional night by both teams, but the most dramatic moment came with 3:08 remaining in the second.
Anthony and Sefolosha were tied up near the basket, positioned for a rebound, when the Knicks star lost his cool with a forearm jab to Sefolosha's face.
The two players exchanged heated words and were separated. Players and assistant coaches on both benches stood up, and security personnel for each team came onto the floor.
Anthony, a nine-time All-Star, followed Sefolosha to the Hawks' end of the floor, but the situation calmed down as the officials watched a replay. It first appeared that the officials might just call offsetting technicals and give Anthony a break.
"That would've been terrible," Sefolosha said. "So I'm glad they switched the call and actually took another look at it."
Referees gave Carmelo a flagrant foul 2 and he was ejected from the game.
Copyright AP - Associated Press