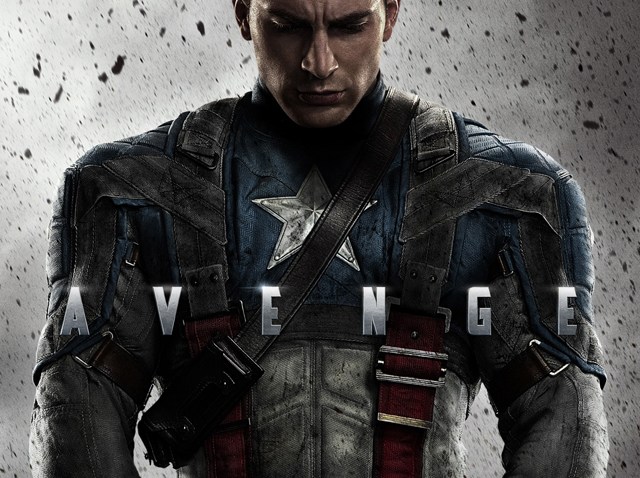 By the time 2011 comes to a close we will have seen five big budget superhero movies, and right now none is more promising than "Captain America: The First Avenger."
The new poster for "Captain America" is simple enough, but the look of his outfit, the grit, the leather, Chris Evans' solemn face, are all pitch perfect. Yes, we still have doubts about the 3D, and Joe Johnston needs to redeem himself after "The Wolfman," but this one still stands head and shoulders above the others.
"The Green Hornet" left us underwhelmed, as it traded on the hero's name without really living up to his legend. As much as we liked the first pics of Andrew Garfield as Peter Parker and Spider-man, the guys over at Collider express some legitimate concerns about Spidey's outfit, in particular "his rotted codpiece." We still think Garfield's easily the best actor of the 2011 hero litter, but our faith is a little shaken.
And speaking of codpieces (or is it "codpie"?) Ryan Reynolds' Green Lantern outfit is a disaster, and the trailer isn't much better. The first pics of "Thor" are no more promising, as most of what we see of Chris Hemsworth in the trailer is the God of Thunder as a civilian--who is that fun for?
"X-Men: First Class" offers "Captain Marvel" the stiffest competition, with director Matthew Vaughn fresh off "Kick-Ass," and Michael Fassbender as Magneto, and a bunch of other talented folks among the world's mightiest mutants. But until they start showing us something, we have to reserve judgment.
The best part about the "Captain America" poster dropping is that it gets us even more amped for the trailer premiere this weekend (hint: it's during the "Super Bowl"), and it reminds us that at least Cap gets to be played by an actual American.