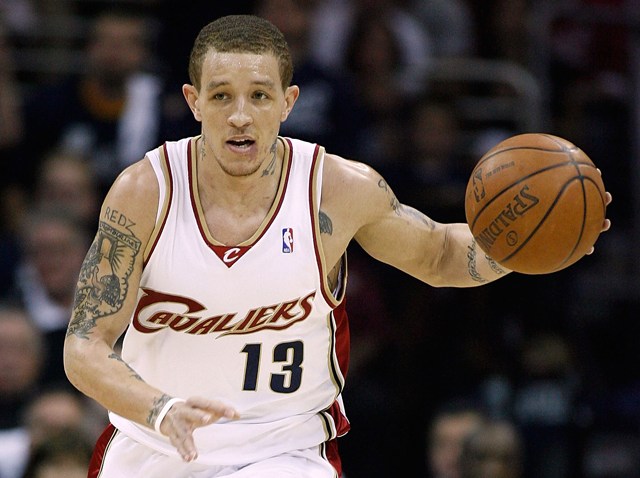 UPPER MARLBORO, Md. -- An NBA player and former D.C.-area high school star was arrested in Prince George's County Thursday night.
Cleveland Cavaliers guard Delonte West was pulled over on a three-wheel motorcycle on the Outer Loop of the Beltway near Central Avenue, according to Prince George's County police. He was in possession of two handguns and a shotgun.
"We recovered three weapons from the individual," Prince George's County police Cpl. Clinton Copeland said. "Very cooperative. There was no kind of conflict or anything at the time. At that point, he was arrested and transferred to the local station."
The D.C.-area native was stopped for speeding and cutting off a police officer in a marked police cruiser, police said. When an officer approached him, West told the officer he had a gun in his waistband, and the officer asked backup.
Police found another gun on West's ankle and -- "El Mariachi"-style -- a shotgun in a guitar case slung over his back.
West led Greenbelt's Eleanor Roosevelt High School to the Maryland 4A championship game during his senior year. He scored 22 points and grabbed eight rebounds in a 70-58 loss. With averages of 20.2 points, 6.5 rebounds and 3.9 assists for the season, he was named The Washington Post's All-Met Basketball Player of the Year.
At St. Joseph's University, he teamed with current Orlando Magic guard Jameer Nelson to form one of the best backcourts in the NCAA in 2003-04, West's junior year. The Hawks stormed through an undefeated regular season then lost once in the Atlantic 10 conference tournament and again in the Elite Eight of the NCAA tournament to finish the season 30-2.
He entered the draft following that season and has averaged 10.2 points and 3.8 assists per game in a five-year NBA career.
West was charged with carrying handguns while driving. He was not charged for the shotgun.
He was released on personal recognizance and is scheduled to appear in court on Nov. 20, according to court records.