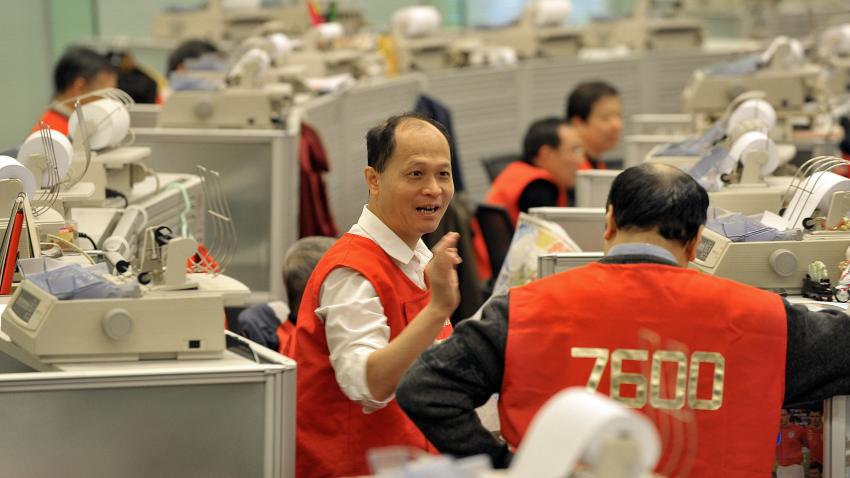 Most Asian markets retreated Tuesday, led by a steep fall in Japan, as commodities stocks followed oil prices lower and a bleak outlook for earnings hit iconic exporters such as Sony Corp.
Japan's Nikkei 225 stock average tumbled 392.26 points, or 4.4 percent, to 8,444.54, catching up with Asia's losses on Monday after being closed for a holiday but also undermined by strength in the yen.
Hong Kong's Hang Seng index was up 0.1 percent at 13,980.91 and South Korea's Kospi gained 0.8 percent to 1,165.52. But Australia's index slipped 0.8 percent and Shanghai's market traded 1.6 percent lower amid news that China's trade slump worsened in December as exports fell at their fastest rate in a decade.
"The overall mood is still cautious. There is no rush to buy stocks," said Francis Lun, general manager of Fulbright Securities Ltd. in Hong Kong, who expects the Hang Seng index to fall to as low as 13,000 this month. "The outlook for the market is not good."
On Wall Street, stocks fell Monday as investors braced for the latest U.S. earnings season amid fears the financial crisis and the recession are hurting corporate profits more than previously expected.
The Dow Jones industrial average fell 125.21 points, or 1.5 percent, to end at 8,473.97. Broader stock indicators also declined, with the Standard & Poor's 500 index shedding 20.09, or 2.3 percent, to 870.26.
In Tokyo, Sony Corp. dived 8 percent after media reports said the company will post a 100 billion yen ($1.1 billion) operating loss this fiscal year through March, its first since 1995. The company declined to comment.
Profits at the electronics exporter have been hurt by a stronger yen, which erodes overseas earnings, and waning demand as the global economic slump unfolds.
The dollar slipped to 89.26 yen Tuesday. A year ago the dollar was buying about 108 yen.
Japan's automakers, already forecasting sharply lower earnings as demand for new cars evaporates, continued to slide. Top automaker Toyota Motor Corp. sank 6 percent and Honda Motor Co. dropped 6.3 percent.
Lower oil and metals prices hit energy and commodity stocks around the region. Japanese energy exporter Inpex Corp. tumbled 8.2 percent while in Australia, BHP Billiton, the world's biggest mining company, fell 2 percent. Rival Rio Tinto slipped 3 percent.
Light, sweet crude for February delivery was down 56 cents at $37.03 a barrel by early afternoon in Singapore in electronic trading on the New York Mercantile Exchange on expectations crude demand will weaken amid a severe global economic slowdown.
Crude prices have fallen more than 25 percent since reaching just above $50 a barrel last week.
Copyright AP - Associated Press