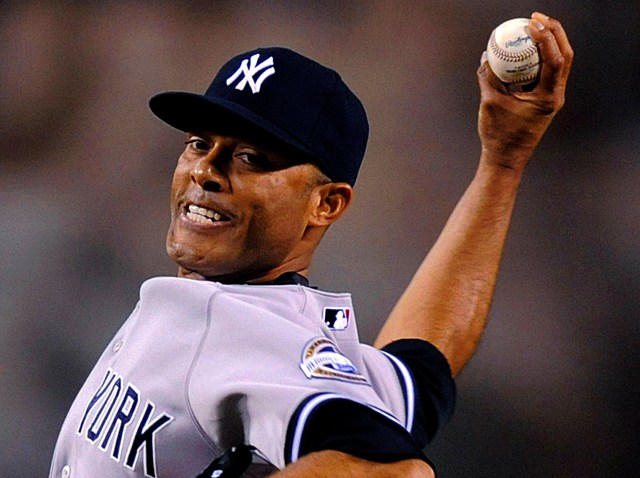 Brett Gardner scored the tiebreaking run on Alex Rodriguez's sacrifice fly in the ninth, and the New York Yankees celebrated clinching their 14th playoff appearance in 15 seasons Tuesday night with a 6-5 victory over the Los Angeles Angels. The Yankees became the first Major League team to secure a spot in the playoffs this year, MLB.com reported.
Rodriguez homered and drove in three runs before Mariano Rivera earned his 41st save for the Yankees, who were guaranteed a return to the postseason about 55 minutes before the last out in Anaheim when Oakland beat the Texas Rangers 9-1.
The Yankees blew a 5-0 lead before rallying to win for the first time in five games this season at Angel Stadium, where they've still lost 18 of 24. Phil Hughes (8-3) allowed the Angels' tying, unearned run in the eighth on Maicer Izturis' RBI single.
Derek Jeter, Johnny Damon and their teammates are back in the postseason after staying home last fall in manager Joe Girardi's debut campaign. The Yankees won 17 playoff series and four World Series titles in a 13-year span after 1994, but New York hasn't won a championship since 2000 or even a playoff series since the 2004 division series, losing four straight.
These Yankees are likely to be in prime position to end that streak. They also have a six-game lead over Boston in the AL East and a 5½-game edge on the Angels for homefield advantage at the new Yankee Stadium throughout the postseason.
Chone Figgins homered for the Angels, who had won four of five. Los Angeles still has a 7½-game lead on the Rangers in the AL West, but its magic number stayed at six for clinching its third straight division title.
The Yankees took a five-run lead in the fifth inning after early homers from Rodriguez, Jorge Posada and Hideki Matsui, but Los Angeles chipped away with several typical small-ball rallies, tying it when Izturis drove home Howie Kendrick with a single over the drawn-in infield in the eighth.
Gardner led off the ninth with a single and stole second on a pitchout, thanks to a poor throw by fourth-string Angels catcher Ryan Budde. After Matt Palmer (10-2) walked Jeter and Mark Teixeira got an intentional walk from Darren Oliver to load the bases with one out, Rodriguez's drive was deep enough to get Gardner home.
Rivera's streak of 36 consecutive saves ended last Friday in Seattle with only his second blown save of the year, but Posada threw out pinch-runner Reggie Willits trying to steal second base after Juan Rivera struck out in the ninth.
The Yankees hit their homers off Los Angeles starter Ervin Santana, who yielded nine hits in six innings. The Dominican right-hander's latest inconsistent outing probably guaranteed manager Mike Scioscia will leave him out of the Angels' playoff rotation.
Chad Gaudin started strong before fading in the fifth inning for the Yankees, who have won each of his five starts since he arrived last month in a trade with San Diego.
Jeter's fourth-inning single clinched his seventh 200-hit season, a major league record for shortstops. He's one 200-hit season shy of breaking the club record held by Lou Gehrig, who was passed by Jeter as the Yankees' career hits leader 11 days earlier.
NOTES: Rodriguez is three homers behind Mark McGwire for eighth place on baseball's career list. ... Gaudin hasn't received a decision in any of his five starts with New York.
Copyright AP - Associated Press