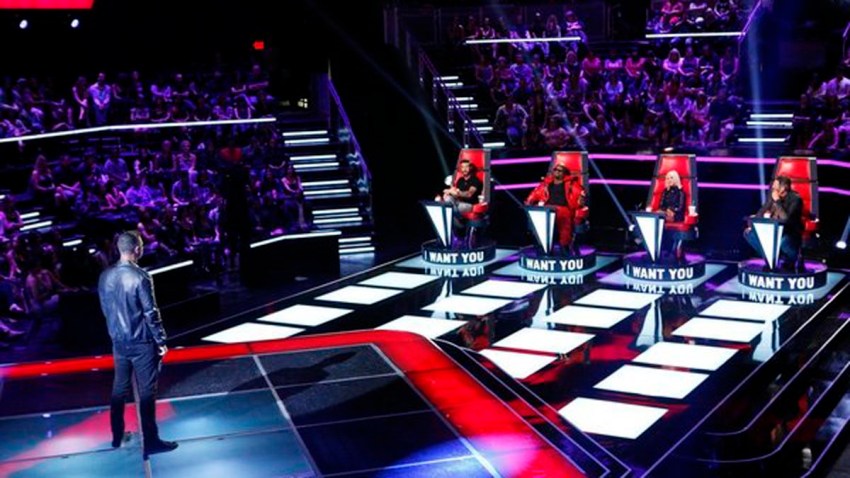 The clock was ticking Tuesday night for "The Voice" coaches to finish fleshing out their teams, and as it did, frustrations flared between the coaches' chairs.

At the end of the night, it was Adam who won some of the hardest-fought battles for talent, and it was CeeLo who lost out on some of his favorite contestants.

Adam's winning stream began right off the bat, with rock scion and young hipster dad Will Champlin, who — decked out in suspenders and white-rimmed glasses — took on Gavin DeGraw's "Not Over You."

"I can't think of one thing that wasn't spectacular about that performance," Adam told him, though he also managed to remind Will of their shared experience as Angelenos. The tack worked, and Will picked Adam over CeeLo and Blake.

Next came a battle between CeeLo and Christina, and CeeLo lost that one too, despite his best efforts. That battle was over Stephanie Ann Johnson, a gospel-fed and classically-trained 25-year-old who works as a lounge singer on cruise ships. ("I'm ready to get back on land," she admitted.)

Stephanie yipped, growled and crooned her way through KT Tunstall's "Black Horse & the Cherry Tree," to CeeLo's obvious delight as he cheered her on.

CeeLo picked up on her gospel roots and said he had heard "soul and conviction" in her performance. And when Stephanie admitted that her niche was "indie soul music," it seemed CeeLo would be her obvious choice for a coach.

But he wasn't. She went with Christina.

CeeLo tried again for the next singer, Sam Cerniglia, an aspiring Chicago crooner cheered on by his two sisters both battling genetic disorders. Sam took on Michael Buble's "It's a Beautiful Day" and earned plaudits and chair turns from both Blake and CeeLo.

"You sounded so sophisticated," CeeLo remarked. "You're a complete vocalist," Blake said. Sam went with Blake.

Next came James Irwin, an indefatigable singer who had tried out at blind auditions last season but failed to make it onto a team.

This time around, the young dad managed to turn all four coaches' chairs with his slow-burn cover of REM's "Losing My Religion."

That four-chair turn for somebody who had previously failed to earn even a one-chair turn marked a "Voice" first, Adam remarked, as he and his rival coaches proceeded to vie for James on their teams.

"You're ready to win this thing now. Let's do it!" Blake enthused. But James, citing his rock background, picked Adam as his coach, giving Adam the first of the two four-chair turns he'd nab all evening.

Next up was Olivia Henken, a Louisville-bred country music poster girl looking to best her litany of lesser singing contest victories. The blonde took on Carrie Underwood's "Two Black Cadillacs" — and with it, she triggered another CeeLo-Christina fight for her talent.

"Something in it just totally connected with me," Christina said, and Olivia chose her as her coach. (She may have bought that over CeeLo's claim that he, like Olivia, counted as "country with a little rock to it.")

CeeLo finally picked up a team member with the next performer, and he managed to press his button in the nick of time.

R. Anthony, a bespectacled, married father of two young daughters, had grown up the quiet, awkward kid in a large family before he discovered his love of music singing with a gospel trio. Now, he said, he was ready to go solo.

He did so on "The Voice" stage with a subtle but gospel-tinged take on the Script's "Hall of Fame," earning a chair turn from Christina and then, at the very last moment, from CeeLo too. To Christina's frustration, R. chose CeeLo, giving the "F--- You" singer his first success of the night.

CeeLo got another team member in Keaira LaShae, while Christina picked up Amber Nicole and Blake picked up Emily Randolph. Blake also got a run for his own country money — as well as a team member — in the form of Alabama-bred Justin Chain, who committed himself to a singing career after a horrific motorcycle crash torpedoed his college football plans.

The toughest fight of the night, though, was the one for single mom, full-time programmer analyst and part-time singer Ashley Dubose, whose confident, joyful take on Rihanna's "Diamonds" won over all the coaches as soon as she hit her first high note.

Adam said her voice "overtook the room," while CeeLo shared a vision of the future that fell somewhere between eerie and charming. "I want to be there for you all the way down the line, you know, rooting for you front row at the Grammys," he said.

But Ashley sided with Adam as her coach, making Adam the coach with the most momentum Tuesday night in the four-chair fights for great singers.

As for those who didn't turn a chair? Recent high school graduate Macey Estes' singing didn't prompt a chair turn, though the rap she wrote about coming on "The Voice" impressed the judges. Jennifer Newberry's take on Bruno Mars' "Locked Out of Heaven" didn't showcase her own personality enough, Christina said.

And while the coaches were impressed at the contrast between 16-year-old Jason Kertson's voice (think Eddie Vedder crossed with Paul Robeson) and looks (think One Direction), that didn't land him a spot on a team.

The blind auditions continue on "The Voice" next week, as the coaches look to stock their teams with as many possible winners as they can.

"The Voice" airs Mondays and Tuesdays at 8/7c on NBC.