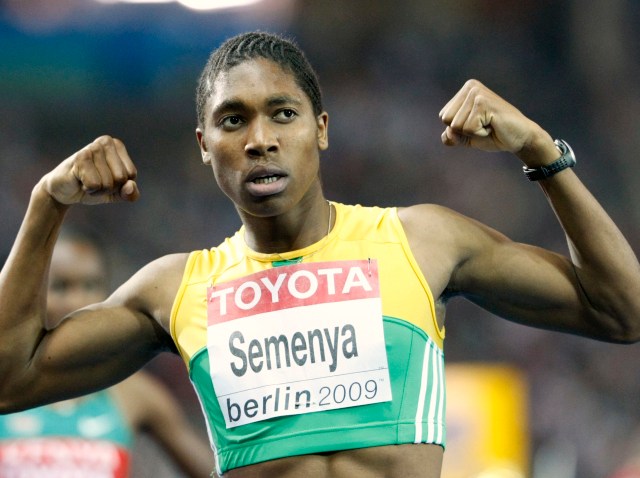 PRETORIA, South Africa – South Africa's top track official apologized Saturday for denying knowledge of gender tests done on runner Caster Semenya in the country, saying he lied to protect her privacy.
Athletics South Africa president Leonard Chuene told reporters his constant denials of the tests, which he said he was aware of when they were done in early August, were an "error of judgment" and never meant to "deceive" the public.
South African officials repeatedly said tests were done on the 18-year-old runner only abroad, not in South Africa.
"I can no longer stand before you and say that I am not aware of gender tests conducted on Caster Semenya," Chuene said. "I felt that at the time I was acting in the best interests of Caster Semenya as a person. I believed at the time my consistent denials would help protect her."
Semenya won the 800-meter race at the world championships on Aug. 19 in Berlin in 1 minute, 55.45 seconds, finishing 2.45 seconds ahead of her closest competitor. It was the fastest time in the world this year.
The International Association of Athletics Federations ordered more tests done on the runner in Berlin, saying questions had been raised about her muscular physique and recent stunning improvement in times.
The IAAF has refused to confirm or deny Australian media reports that Semenya has both male and female characteristics, saying it is reviewing test results and will issue a decision in November on whether the athlete will be allowed to compete in women's events.
Chuene said tests had been done at a Pretoria hospital on Aug. 7 at the behest of the IAAF, adding that it was unclear whether Semenya was informed of the nature of the examinations.
Chuene said that despite medical advice and a request from the IAAF, he refused to withdraw Semenya from the race because there were no results yet from the tests.
"I was not going to stop her talent because of rumors," he said. "On what basis should I have withdrawn her? My only crime committed was to take a decision that she must run, and she won."
Chuene also accused the IAAF of violating her rights and privacy.
"The IAAF publicly revealed her name. The IAAF betrayed her. The IAAF has a lot to answer for," he said.
Chuene is returning to the IAAF board after he resigned over the handling of the matter, but Saturday's news conference is unlikely to ease tensions between the ASA and the international body.
The IAAF has said Semenya probably would keep her medal because she is not accused of cheating by trying to mask her gender.
On Saturday, Chuene repeated his claims that he saw no reason for Semenya to be tested and said he would not accept the outcome of results.
He said the ASA was not in possession of any test results and he could not confirm media reports about her gender.
Semenya, who has dropped out of sight, grew up in a poor village in northern South Africa. Her impressive performances in meets this year caught the attention of track officials.
Chuene denied that Semenya — seen as the team's best chance for a gold medal — had been "sacrificed for a medal."
He said he stays in contact with Semenya, a university student in Pretoria who is sitting for her final exams.
"It has been deeply disturbing for me to bear witness to the relentless and ongoing controversy surrounding Caster Semenya," he said. "Tell me someone who has not lied to protect a child."
Copyright AP - Associated Press