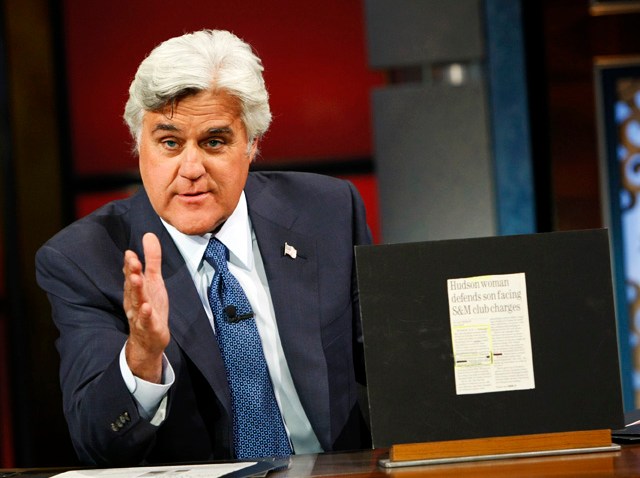 After barely four months on the air, "The Jay Leno Show" prime time experiment has come to an end.
The New York Times reported that Jeff Gaspin, chairman of NBC Universal Television and Entertainment, confirmed Sunday during a press conference that Leno's show will move back to late night following the Winter Olympics. The last prime-time episode will air Feb. 11.
According to Gaspin, "talks are still ongoing" with Conan O'Brien, who took over Jay Leno's old gig at "The Tonight Show," about moving his time slot back. Leno's show would air in a shortened format at 11:35 p.m. and Conan would follow at 12:05 a.m. "The Late Show with Jimmy Fallon" would also be affected by the time push.
"My goal right now is to keep Jay, Conan and Jimmy as part of our late-night lineup. As much as I'd like to tell you we have a done deal, we know that's not true," Gaspin said.
Gaspin told reporters that the talk show hosts "have the weekend to think about" the proposed change before talks resume on Monday.
While "The Jay Leno Show" was working financially for NBC, the affiliate stations took a hit when ratings for the 11 p.m. newscasts dropped.
In a statement released three days earlier, NBC wrote "Jay's show has performed exactly as we anticipated on the network. It has, however, presented some issues for our affiliates. Both Jay and the show are committed to working closely with them to find ways to improve the performance."
It is still unclear what will replace Leno's prime-time slot, but The New York Times reports that Gaspin expects two nights of scripted programs, a reality program, some "Dateline," and repeats.