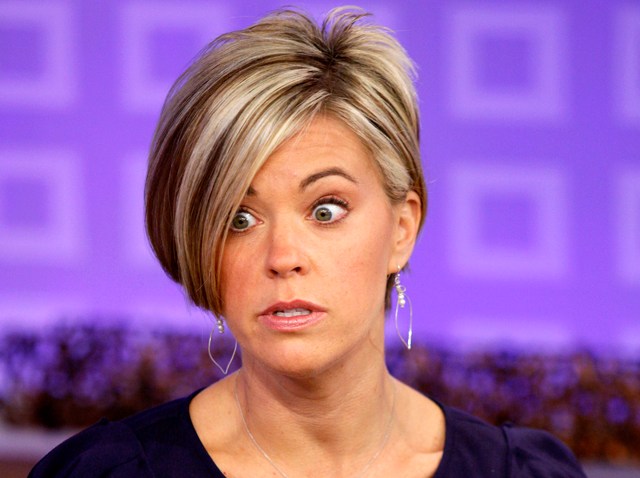 Kate Gosselin, still stinging from her recent split with her hubby, said she fears she will be alone forever.
The reality TV mom and soon-to-be divorcee who is struggling with a bitter divorce battle said she is mulling remarrying but for the foreseeable future is simply trying to adjust to single life.
"I struggle because I really don't want to be married," Kate revealed during a special episode of "Jon & Kate Plus 8" last night. "Can you blame me? But I don't want to be alone. We shall see. Maybe when I'm 73 1/2."
"I would love not to be alone ... But nobody's going to buy into my mess so I probably will be. But it's OK, I'll just be working hard anyway"
In the one-hour TLC special, Kate joked about her hair, her future as a television star and whether her divorce from estranged husband Jon Gosselin is hurting their eight children.
"They're not suffering form this," Kate said. "They're kids 99 percent of the time. ... I'm raising kids who are going to scrutinize people inside and out."
The reality TV mom said she hopes that -- despite her ex's attempts to halt filming of their eight kids -- she will be able to continue to play a role on the small screen.
"I've discovered that I've done enough years of TV that it's a normal, natural place for me to be," Kate said. "I'd love to be in a movie at some point. I would love to be the voice of a cartoon character in a movie for my kids. I think that would be fun."
Hours before the special aired, Kate was the target of attacks from Jon's attorney, who called her "the old lady who lived in a shoe" and said she wasn't complying with a court order that demanded she refund money to the couple's joint bank account.
Attorneys for the pair squared off in a Pennsylvania courtroom yesterday over questions surrounding unauthorized withdrawals from their joint bank account.
"Jon Gosselin has met all of the obligations he was required to make," Jon's attorney, Mark Heller, said on Monday. "The obligations that Kate Gosselin has were not fulfilled. Maybe that explains why she didn't appear in court today."
Kate, who was in California for a women's leadership conference at the time of the hearing, had met the requirements set forth by the judge, her attorney said.
"Ms. Gosselin, who was directed by the court to provide an accounting by today's date, did in fact provide a full and complete accounting of funds prior to today," her attorney said in a statement.