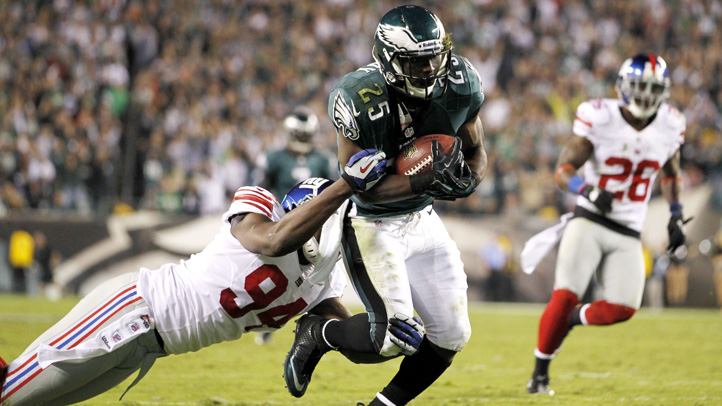 Lawrence Tynes' kick sailed wide left and a sellout crowd broke into a wild celebration that quickly halted when they realized it didn't count.
Lucky for the Philadelphia Eagles and their fans, Tynes missed again.
Tynes was short on a 54-yard field goal attempt with 15 seconds left and Philadelphia held on for a 19-17 victory over the New York Giants on Sunday night.
"When you're surrounding by 66,000 people that probably wanna rip your head off, yeah," Eagles coach Andy Reid said when asked if he regretted calling a timeout to ice Tynes on his first try.
With LeSean McCoy leading the way on the ground, Michael Vick guided Philadelphia (3-1) to their third comeback win.
The Eagles became the first team in NFL history to have each of their first three wins by two points or less according to information provided to the Eagles by the Elias Sports Bureau.
Alex Henery kicked a 26-yard field goal with 1:49 left and the Eagles overcame two pass interference penalties on New York's final drive.
The defending Super Bowl champion Giants (2-2) have struggled against Philadelphia, losing eight of the last nine meetings.
"We knew it was going to be a game that was going to come down to the fourth quarter," Eli Manning said. "We knew we were going to have to earn every yard. They're a good defense, they're a good team. We had opportunities, we were close."
McCoy had 121 of his 123 yards rushing in the second half. The All-Pro had six carries for 2 yards at halftime.
"It's just the Giants and Eagles, this is what it comes down to," McCoy said. "Eventually our running game would crack it and that's what we did."
Vick threw TD passes in the final two minutes in consecutive 1-point wins over Cleveland and Baltimore the first two weeks before a 26-7 loss at Arizona.
After Manning tossed a go-ahead 6-yard TD pass Bear Pascoe, Vick drove the Eagles to the Giants 2 before Osi Umenyiora sacked him for a 6-yard loss on third down. Henery then hit his fourth field goal to put Philadelphia ahead to stay.
Henery also connected from 48, 35 and 20 yards.
A pass interference penalty on Dominique Rodgers-Cromartie kept the Giants' last drive alive and put the ball at the Eagles 35 after Manning threw an incomplete pass on fourth-and-1. Another pass interference call on Nnamdi Asomugha on third-and-10 moved it to the Eagles 27.
Then Ramses Barden got called for offensive pass interference to move it back to the 36.
"I thought it was on him," Barden said of Asomugha. "But I know he's a competitor, and he came to play tonight. We were both fighting for position and it's just one of those things."
After an incomplete pass, the Giants sent out Tynes to try for the winning kick on third-and-18 because they didn't have any timeouts remaining.
"I don't believe in icing the kicker," Vick said. "You let him kick it and if it's in, it's in. You can't play games. I don't know where that started. We got to end that tradition."
Vick was 19 of 30 for 241 yards and the turnover-prone Eagles protected the ball. The Eagles led the NFL with 12 turnovers through three games, but didn't commit any.
Manning completed 24 of 42 passes for 309 yards, two TDs and one crucial interception.
He threw a pick in the end zone after a 30-yard pass to Victor Cruz on fourth-and-1 got the Giants to Philadelphia's 10 on the final play of the third quarter.
Rodgers-Cromartie intercepted Manning's underthrown pass into triple-coverage and returned it 14 yards to the Eagles 9. The Eagles slowly moved the ball on the ground to set up Henery's 35-yarder that made it 16-10.
Manning redeemed himself on New York's next possession. He completed passes of 31 yards to Barden and 41 yards to Domenik Hixon. He then found Pascoe wide open over the middle for a 17-16 lead with 6:45 left.
McCoy finally broke loose by running for 56 yards on consecutive carries in the third. He was stopped at the 1 on a 22-yard gain, and then couldn't get in on three straight carries. The Eagles settled for a 20-yard field goal by Henery that made it 10-3.
"The O-line found themselves as the game wore on," Reid said. "They were able to block well enough to where McCoy had big yards."
The Giants answered after David Wilson ran the kickoff back 45 yards to the 43.
Mixing run and pass effectively, the Giants moved to the 14. On third-and-3, Manning threw a TD pass to Cruz, who celebrated with his trademark salsa dance in the stadium where it all started. Cruz burst on the scene with a breakout performance in a 29-16 win at Philadelphia last September.
Vick threw a 27-yard pass to Brent Celek and then scrambled 18 yards to set up Henery's 48-yard field goal late in the third that made it 13-10.
Hoping to establish the run early, the Eagles had no success giving the ball to McCoy in the first half.
But Philadelphia used a no-huddle offense to drive 70 yards on 11 plays for the only TD. The Eagles converted three third downs on the series, including Vick's 19-yard TD pass to DeSean Jackson on third-and-9.
Before the game, the Eagles retired the No. 20 worn by Brian Dawkins for 13 seasons from 1996-2008. The hard-hitting safety went to eight Pro Bowls and was a four-time All-Pro in 16 years with Philadelphia and Denver.
Dawkins, one of the most revered athletes to play in this sports-crazed city, sent the sellout crowd at the Linc into a frenzy when he ran out of the tunnel during pregame introductions. Wearing his green No. 20 Eagles jersey, Dawkins did his unique, crawling, gyrating entrance. He then joined the captains at midfield for the coin toss. Dawkins changed back into his navy blue pinstriped suit and led the crowd in signing "Fly! Eagles! Fly!" at halftime.
Copyright AP - Associated Press