Turkey's president declared he is in control of the NATO country early Saturday as loyal military and police forces fought to squash a coup attempt during a night of explosions, air battles and gunfire that left dozens dead, NBC News reported.
A faction of the armed forces attempted to seize power using tanks and attack helicopters, some strafing the headquarters of Turkish intelligence and parliament in Ankara, others seizing a major bridge in Istanbul.
At least 194 people were killed in clashes, Gen. Umit Dundar told a press conference. He said that figure included 47 civilians, 41 police officers, two soldiers and 104 alleged coup plotters. An additional 1,154 people were injured.
The coup attempt crumbled after crowds answered President Recep Tayyip Erdogan's call to take to the streets and dozens of rebels abandoned their tanks. Government officials blamed the unrest on a U.S.-based Islamist cleric.
[NATL] Tanks, Protesters Take to Streets During Attempted Coup in Turkey
President Barack Obama urged all sides in Turkey to support the democratically elected government. NATO Secretary-General Jens Stoltenberg said he spoke to Turkish Foreign Minister Mevlut Cavusoglu and called for respect for democracy.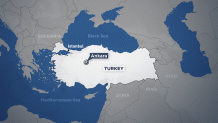 Erdogan and other officials blamed the attempted coup on followers of Fethullah Gulen, an influential cleric in self-imposed exile in the U.S. who once supported Erdogan but became a nemesis.
[NATL] Top News Photos: Pope Visits Japan, and More
The U.S. State Department urged Americans in Turkey not to attempt reaching the U.S. Embassy or consulates, telling them instead to "shelter in place." President Barack Obama discussed the events with Secretary of State John Kerry, and they agreed "the democratically-elected Government of Turkey" should be supported by people in Turkey, according to a White House statement.
Copyright AP - Associated Press