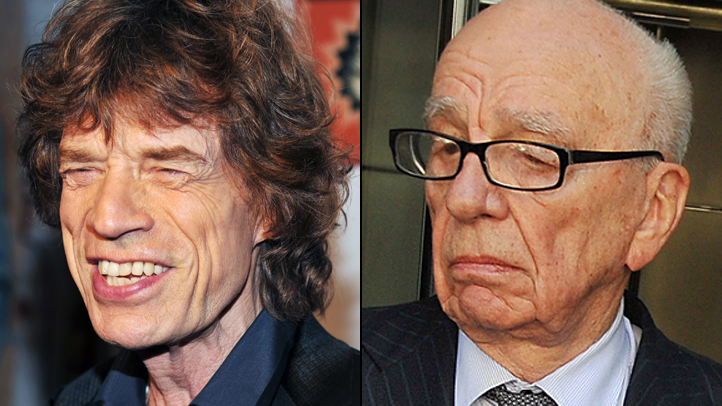 Rocker Mick Jagger, who hasn't acted in a major film role since 2001, is looking to make a return in a big way - by essentially playing Rupert Murdoch.
The project, which Jagger is developing himself through his production company Jagged Films, is titled "Tabloid," and would have the 68-year-old Rolling Stones frontman playing a global media mogul who seduces a young journalist into a world of high stakes and dubious morality. It's a media version of "Wall Street," with Jagger in the Gordon Gekko role, and the echoes of Murdoch's empire - especially amid the ever-growing phone hacking scandal plaguing News Corp - are too loud to ignore.
"A History of Violence" screenwriter Josh Olson has apparently been signed on to write the film, but no other casting has been made at this point as the project is still very much in development. Business mogul and frequent tabloid fodder Steve Bing is listed as producer.
If they are looking to cast someone to play a Wendi Deng-like character as the media mogul's wife, may we suggest someone with action movie chops?
Jagger's last major role was in the little-seen 2001 movie "The Man From Elysian Fields." He's mostly known for playing a thinly-veiled version of himself in the trippy 1970 film "Performance" (for which he earned critical kudos) and for playing a futuristic body-snatcher in the campy 1992 action film "Freejack" alongside Anthony Hopkins and Emilio Estevez (the movie's "so bad it's cool" cult classic status was cemented by a cameo appearance in Quentin Tarantino's "True Romance" - it's the movie Brad Pitt is watching in a weed-induced haze).
Jagged FIlms' last production was the 2008 remake of the 1939 comedy/drama "The Women," which starred Meg Ryan, Annette Bening, Eva Mendes, Debra Messing, Jada Pinkett Smith, and Bette Midler.