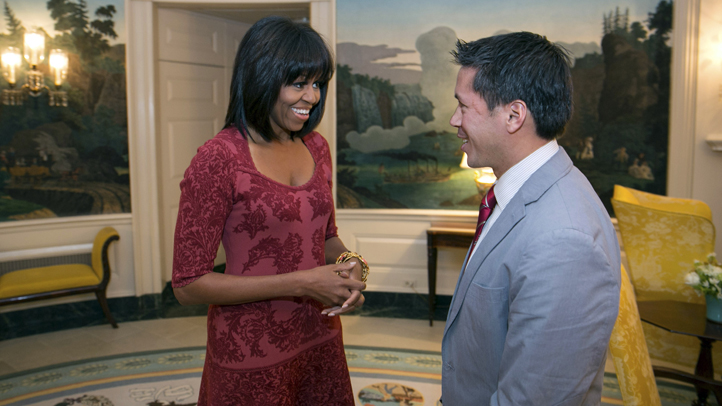 While many believe substance should trump style when it comes to the first lady, there is no denying the impact Michelle Obama has on American style.
So when Mrs. Obama debuted a new haircut Thursday (with bangs, no less!) via her freshly launched official Twitter account (on the first day, no less) it was sure to become a major style moment. The fact that the reveal also occured on her 49th birthday didn't hurt when it came to creating interest in the new 'do.
The first lady's second official tweet showed her chatting with inaugural citizen co-chair David Hall in the Oval Office. While the reason for the tweet is to draw attention to the work of Hall and those involved in preparations for Monday's round of inaugural appearances and balls, it's the new haircut that generated all the buzz.
No official word has come from the White House regarding the new first hairdo, and probably won't.
Normal 0 false false false EN-US X-NONE X-NONE In a recent interview regarding her wardrobe choices, In Style editor-at-large Hal Rubenstein said: "Michelle Obama doesn't need to prove anything to anybody. Instead, what Michelle Obama represents is a relatable, modern American woman."
And if social networks are any indication, America is relating positively to the new look.
Breathless tweets of "FLOTUS unveils birthday bangs," "Michelle Obama Gets Bangs" and "CUTE!" flooded Twitter in response to the picture.
With her style choices endlessly discussed and copied, it's a safe bet the first lady's new coif will become one of the most requested cuts of the new year, and the President's new term.