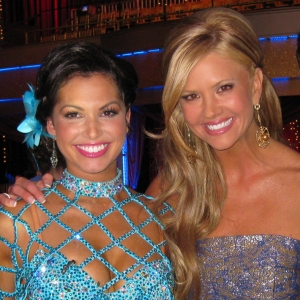 Melissa Rycroft wowed the judges on Monday's season premiere of "Dancing With the Stars."
But the "Bachelor" star said after the show she never intended to jump back into reality TV.
VIEW THE PHOTOS: 'Dancing With The Stars' Week One! Just The Beginning…
"You said you weren't going to do reality TV again and now, here you are. What changed your mind?" Access Hollywood'sNancy O'Dell asked Melissa.
"Well, I didn't approach this. It came to me and it came to me at a time where I went, 'Well, maybe this is why that happened to me?'" Melissa noted. "I don't plan on making a career out of this. I promise!"
VIEW THE PHOTOS: 'Dancing With The Stars': The Portrait Shots!
As previously reported on AccessHollywood.com, it was Melissa who replaced Nancy in the "Dancing" lineup after a severe knee injury sidelined the Access host.
So while most of the contestants had weeks to get ready for Monday's debut, Melissa and partner Tony Dovolani had less than 48 hours. But the lack of rehearsal time didn't seem to affect the duo's performance, as they netted a 23 out of 30 from the judges.
"You were so good!" Nancy told Melissa. "It took me two weeks to do that!"
VIEW THE PHOTOS: 'Dancing With The Stars' Season 8 Rehearsals
"I'm pretty shocked too," Melissa admitted. "When I look back, what we did starting at point zero to get to where we were tonight, it's pretty cool."
When Melissa was announced as Nancy's replacement over the weekend, some suggested an unfair advantage due to the reality star's former dancing training as a member of the Dallas Cowboys Cheerleaders, as well as ballet experience.
However, as Melissa pointed out, ballet and ballroom are two very different things.
"I'm not the first one that's ever had a dance background on here before," she noted. "I've danced before, but it's totally [different]… When I'm explaining it to people, I say, 'You can take the best baseball pitcher in the world and it doesn't mean he can throw a football accurately.' That's how I feel… So while I've danced, I've never danced like this. I'm learning along with everybody else."
And while the waltz Tony and Melissa performed on Monday night was largely the same one Tony had choreographed for Nancy, Melissa also got to wear Nancy's "Dancing" gown – something not lost on Nancy, who watched the show from the audience.
"I hate to say this Melissa, but I was kind of like the jilted girlfriend. I know what you felt like!" Nancy joked, referencing Melissa's "Bachelor" ordeal.
"That was me last Monday," Melissa laughed.
Related Content from AccessHollywood.com:
PLAY IT NOW: Stars Talk 'Dancing With The Stars Season 8 Premiere!
PLAY IT NOW: 'Bachelor' Star Melissa Rycroft Joining 'Dancing'

MORE ACCESS ON THESE TOPICS: Dancing With the Stars - Melissa Rycroft - Reality TV - TV - Nancy O'Dell

Copyright NBCAH - Access Hollywood