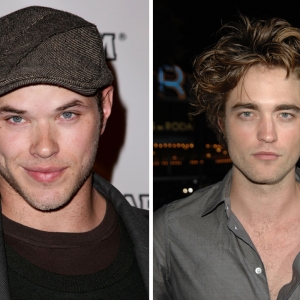 "Twilight" star Taylor Lautner may have made headlines with his bulked-up body for series sequel "New Moon," but he's got another star to compete with in the abs department – Kellan Lutz, who plays Edward's brother, Emmett Cullen.
In an interview with Ryan Seacrest on Friday on "On-Air With Ryan Seacrest," Kellan explained how he'd gotten what Ryan called an "eight-pack."
VIEW THE PHOTOS: 'Twilight' Stars' Off Screen Hook Up
"I love to swim," he said. "I have a pool in my backyard."
And the muscular star said his workout regimen hasn't interfered with his candy habit.
VIEW THE PHOTOS: 'Twilight's' 'New Moon' Cast - Who's In The Mix?
"I have a candy drawer and I'm terrible with it," he said. "Gummy bears, gummy worms, chocolate, everything. I eat so much."
Despite the star's good looks, it's his on-screen brother in the vampire saga, Robert Pattinson, who's gotten much of the attention of "Twilight"'s female fans – and Kellan knows why.
"His accent and his crazy hairdo gets the girls swooning," he said. "I don't have those locks."
VIEW THE PHOTOS: Vampin' It Up With 'Twilight' Scenes & Stars
"Rob's kind of shy," he added. " He's such a humble guy, it's hitting him hard."
Indeed, the "Twilight" stars have found their profiles skyrocketing in the wake of the film's popularity – making it hard to leave the house.
"We all [hung out] before 'Twilight' came out, we would go to the karaoke bars and just hang out and relax and now it's like, we can't go anywhere without being hounded," he said.
For now, he's just going to the set – "New Moon" has just begun production in Vancouver under director Chris Weitz.
"Working with Chris Weitz and being with the cast again, it's great," Kellan said. "We did rehearsals all last week."
Related Content from AccessHollywood.com:
PLAY IT NOW: Kristen Stewart Talks 'New Moon'
PLAY IT NOW: 'Twilight' Fans Sound Off On Deleted Scenes

MORE ACCESS ON THESE TOPICS: Twilight - Young Hollywood - Robert Pattinson - Celebrities - Movies

Copyright NBCAH - Access Hollywood