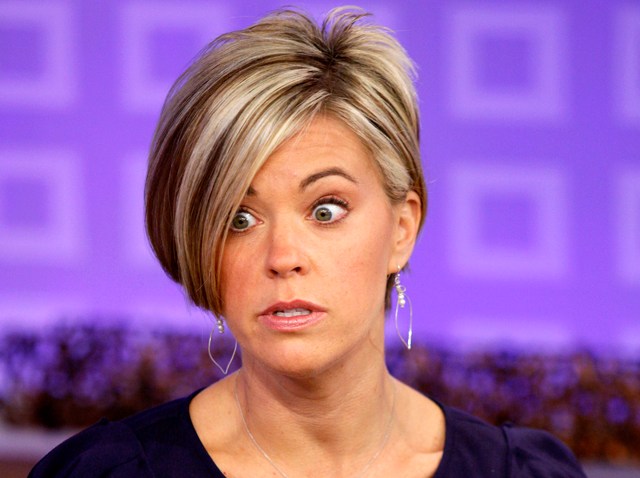 Kate Gosselin says she can't afford to return to her old nursing job so she's willing to pay the cost of fame – hate, hurt and loneliness – to provide for her kids.
In a special one-hour "Kate: Her Story" episode on TLC, the octomom said she has been "grateful" the show has become her main source of income. But she also painted a bleak portrait of her inner-life since calling it quits last summer with estranged beau Jon, her eyes welling up with tears.
"If you are brave enough to step into my world, sorry," she told NBC's Natalie Morales, Usmagazine.com reported. "There are very few people who I can trust. I look at those people and say, Why do you keep coming back?"
With Jon Gosselin having pulled the plug on filming the pair's children and new episodes of "Jon and Kate Plus 8" set to end later this month, much of Kate Gosselin's reality TV life has continued to play out on tabloids, in court and on talk shows.
Gosselin said she no longer gets support from much of her family and keeps a tight inner circle. She called it beyond "hurtful" that her brother Kevin Kreider and his wife Jodi sold untrue stories about her to the tabloids, according to Us.
She also blamed her ex for trying to "take the spotlight off his bad behavior" by accusing her of having an affair with bodyguard Steve Nield -- especially when she fears for her safety.
"People have a lot of contempt and hate for me and at the end of the day, I need to come home safely to my kids," she said.
When Morales asked Gosselin to respond to those who said she used to emasculate Jon on television, she copped to having indeed been "very hard on him."
"I was wrong to treat him that way," she said. "Was it good, healthy and wonderful? No. Am I proud of those moments that were captured? No."
Despite her pain, Gosselin said she has learned to "focus on the positive, to take what crumbles around me and find one good thing and hold on to it."
One crumb she said she's found: "I still think the phone will ring and it'll be…the old Jon."
Get more clips from Kate Gosselin's interview.