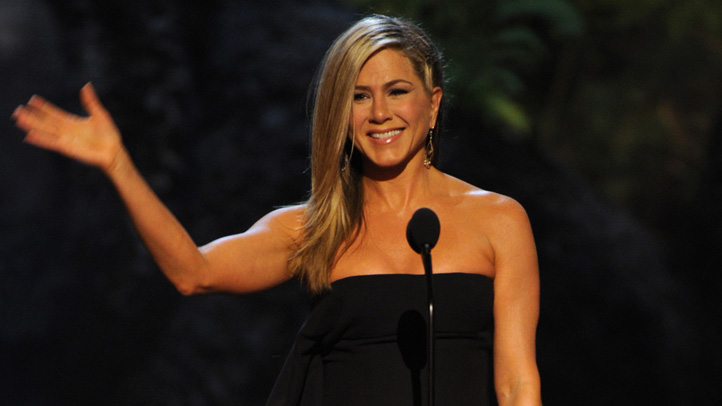 Jennifer Aniston stole the spotlight tonight at the 2013 Guys Choice Awards.
The 44-year-old stunner presented pal Jimmy Kimmel with the Funniest M.F. award at Sony Picture Studios in Culver City, Calif., where the twosome delighted the audience with their award show antics.
Upon taking the stage, Aniston looked gorgeous, tan and super toned in a fitted black strapless dress with her hair down in a side braid. And then it was time for her to flex her comedy muscles.
VIDEO: Jen talks wedding planning, "might make me crazy"
Aniston began her bit by gushing over Jimmy until she was joined onstage and interrupted by roast-tastic comedian Jeffrey Ross who asked her what she was doing and said, "They don't want to hear about how wonderful some other guy is. They want to hear you roast him."
So Aniston turned up the heat on Kimmel:
"Jimmy what a year you've had. You got to host the Emmys, must be so fun to finally meet all the stars who won't do your show.
"Jimmy you've got a lot going on in your life. Like me, you got engaged this year, unlike me, nobody cares.
"Jimmy I love you, you're a great sport, a terrific guy you're an amazing human being and the funniest M.F we know.
"And here's something that no one has ever said before, 'I can't wait to see Jimmy's package' Roll it!"
VIDEO: Shaquille O'Neal gets served by a 2-year-old basketball phenom on Jimmy Kimmel Live
Later, backstage, Kimmel responded to Aniston's comedy assault.
"I got roasted, yeah," he said. "I thought it was funny. She got help from a friendly assassin named Jeff Ross.
"She's got a filthy mouth. I blame her fianc."
Speaking of engagements, Jimmy responded to Jen's joke about nobody caring about his.
"Well she's right, it's true," he said. "And I'm glad it's true."
Elsewhere backstage Mark Wahlberg was sipping wine, Chrissy Teigen and Katherine Webb made like besties, Jamie Foxx was posing for pics with fans and Bradley Cooper was chatting with a pretty blonde (what are the odds?)
Other celebs honored at the event include Ben Affleck, who took home the night's biggest honor of Guy of the Year, Burt Reynolds, who was awarded the Alpha Male accolade and Vince Vaughn, who was named this year's Guycon.
Man of Steel costars Henry Cavill, Amy Adams, Russell Crowe, as well as the film's director Zack Snyder, also took the stage together to accept the Most Manticipated Film award.
The Guys Choice Awards will air on Spike TV June 12 at 9 p.m.
Copyright E! Online