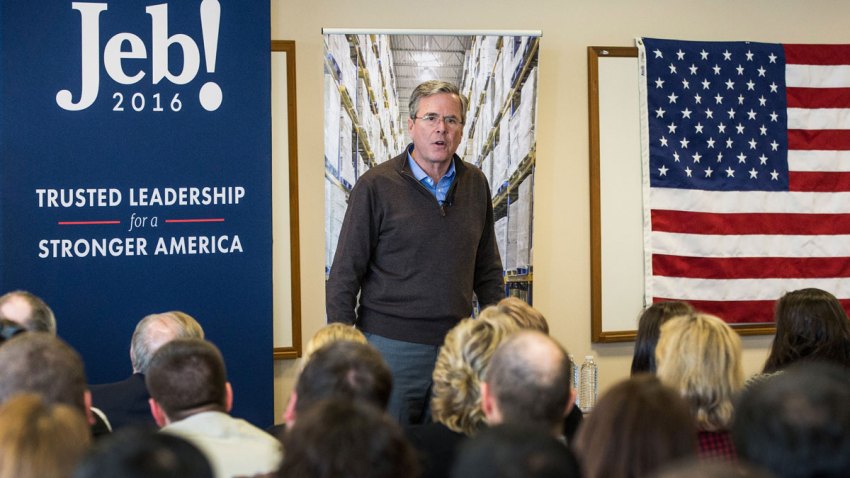 Speaking about how he'd lead the United States military as president, Jeb Bush put his leadership skills to the test, imploring an audience in New Hampshire for a round of applause as he pushes for a big showing in the state's primary election next week.
Bush, whose father and brother have both been president, was saying at a Hanover meeting that he would "have the back of the military" as commander-in-chief, and wouldn't be "blow-hardin', talking a big game without backing it up."
He wound up by saying: "I think the next president needs to be a lot quieter, but sending a signal that we're prepared to act in the national security interests of this country to get back in the business of creating a more peaceful world."
And when the audience didn't react, he added, "Please clap," breaking into a wry smile when the crowd obliged.
Bush will need all the support he can get in the Feb. 9 New Hampshire primary, where the latest NBC News/Wall Street Journal/Marist poll puts him in fifth place among Republicans, with just 8 percent of likely Republican voters and 10 percent of the party's potential electorate.
Bush is trailing Donald Trump and Marco Rubio in the polls despite receiving over $31 million in the campaign so far, more than either of those candidates, according to Federal Election Commission filings. He also trails Ted Cruz, whose $47-million campaign was boosted by victory in the Iowa caucuses this week, and John Kasich.