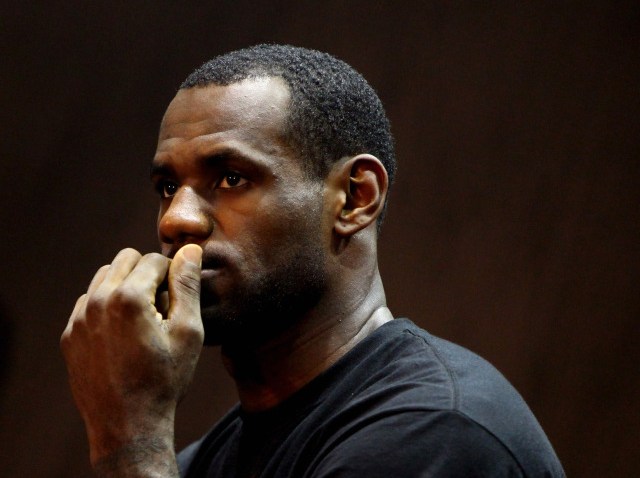 Jon Stewart isn't all about pointing out the foibles of our elected officials and having fun with cable news networks. He's also a New Yorker and a Knicks fan which explains why he didn't waste an audience with LeBron James on his typical brand of jokery. Stewart put on his recruiter's cap and tried to get James to sign up for a stint with the Knicks.
His methods included a coffee mug, some dinosaur bones and one of the best hamburgers that New York City has to offer.
You couldn't spring for a hot burger, Stewart? Danny Meyer loves this town, surely he'd have been willing to get you one fresh off the griddle, no matter how long the line was on a beautiful September Monday. He could have just diverted some of his employees from the Citi Field outlet, it's not like anyone's still paying attention to the Mets.
If he so chooses, James could really milk this lust for him into some serious fringe benefits. Roles in Spike Lee's next six movies (or Woody Allen's, for that matter), a reserved seat at Momofuku Ko, his own balloon in the Thanksgiving Day parade, the animal of his choice named after him at the Bronx Zoo, free Metrocards ... the mind boggles at all of the options available to the man anointed as the savior of the Knicks even though there's a fairly large chance he only plays for them if you trade for him on your XBox.
While we're making recruiting pitches involving the Knicks, how about getting Meyer to open a Shake Shack at the Garden. The food's okay at MSG, but having those tasty burgers available would do a helluva lot to make swallowing another miserable Knicks team easier. Added bonus: The long lines would keep Eddy Curry occupied during games and free up the views for fans seated behind the Knicks bench.
Copyright FREEL - NBC Local Media