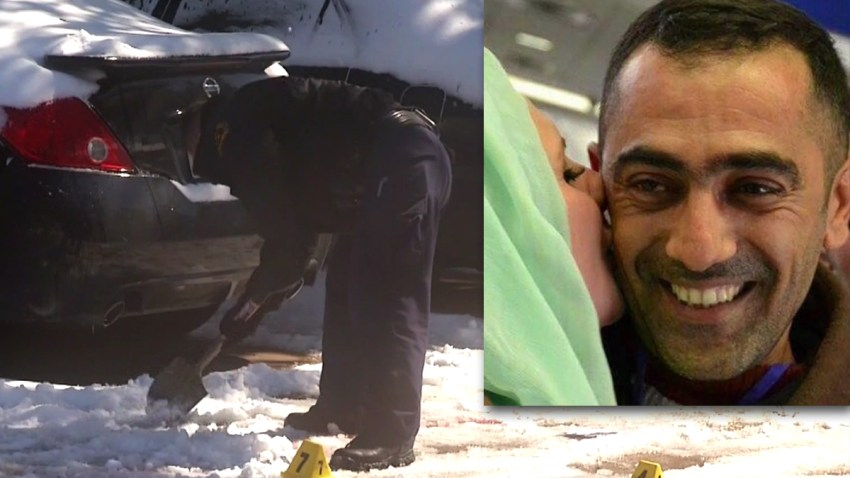 An Iraqi newlywed who was shot dead as he took photos of his first snow Wednesday night, less than three weeks after he moved to Dallas, will be mourned and laid to rest Saturday, as police try to find his killer.
Ahmed Adnan Ibrahim Al-Jumaili, 36, was with his wife and brother when he was shot in the chest in an apparently random shooting in the parking lot of the Walnut Bend Apartments late Wednesday night. He died soon after at Texas Health Presbyterian Hospital.
His distraught father-in-law Mohammed Al Taae told NBC 5 he couldn't believe his new son-in-law had escaped ISIS and other dangers in Iraq, only to die in a random and senseless shooting in Dallas.
Al-Jumaili had moved to the United States just 20 days earlier to marry his wife, after working up to the move for more than a year, Al Taae said. In Iraq, he had been a contractor for an Internet company in Baghdad and often worked with the U.S. Army and Air Force.
"He just bought a car," Al Taae said. "[He was] trying to find a decent job to start his life."
Investigators admitted Friday they had few leads in the investigation into Al-Jumaili's killing but hope someone will come forward with information that leads to an arrest. Crime Stoppers is offering a $5,000 reward for information.
Witnesses said they saw as many as four male suspects enter the apartment complex on foot and head toward an area near where Al-Jumaili and his family were enjoying the snow, police said. Moments later, shots were fired from what police believe was a rifle.
The Council on American-Islamic Relations' local chapter's executive director Alia Salem said the civil rights group had been involved in the investigation over concerns the shooting may have been racially or religiously motivated, though she added that initial evidence doesn't suggest it was.
The reward offered by Crime Stoppers is for information leading to an arrest and indictment in the case. Tipsters can remain anonymous and should call 214-373-TIPS (8477). Tipsters can also contact Detective Montenegro with the Dallas Police Department's Homicide Unit at 214-671-3624, and refer to case number 49093-2015.
NBC 5's Amanda Guerra contributed to this report.