Just hours after tickets for the hit musical "Hamilton" went on sale in Chicago, prices on resale sites like StubHub skyrocketed.
While premium tickets for musical were expected to stretch from $500-$600 during peak times like the holidays, less than one hour after the tickets were released to fans in the city, prices on sites like StubHub had reached up to $8,000.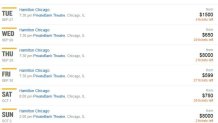 Fans had camped out overnight Monday in hopes of being among the first to score tickets to the Tony Award-winning megahit, which will begin performances in Chicago Sept. 27.
Broadway in Chicago reminded fans Tuesday to watch where they buy their tickets.
"Today the consumer has many options when purchasing tickets for all live events but for Broadway In Chicago there is only one official ticket source that will provide the consumer the best seats, at the best price, with assurance of the best service," Lou Raizin, president of Broadway In Chicago, said in a statement.
By 7:30 p.m. Tuesday, ticket prices of up to $2,000 remained on the StubHub website.