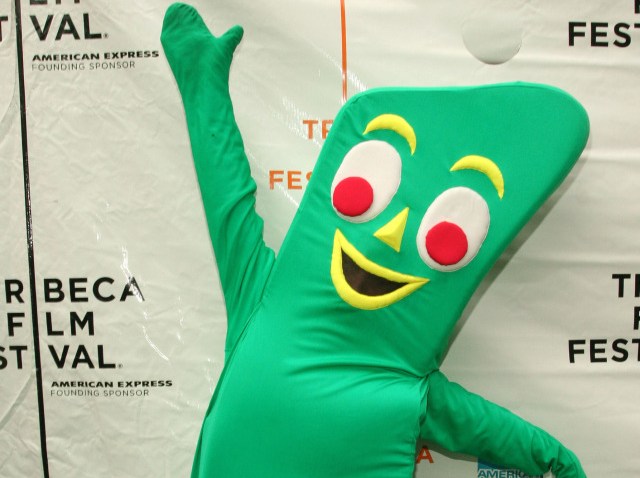 "Where the Wild Things Are" could be on the verge of an Oscar nomination. Pee Wee Herman is beginning a comeback that he hopes will include a movie. There's talk of an "H.R. Puffnstuff" flick.

All are very different celebrations of the childhood imagination, wrought into fantasy-world landscapes. That formula proved key to the success and influence of Gumby creator Art Clokey, who died Friday at 88 and helped, at least in a small way, stretch our imaginations.

Clokey took, as the "Gumby" theme song told us, "a little green slab of clay," and molded it into a figure with the heart of a child and the body of a green, slope-headed gingerbread man, creating an unlikely cultural icon, both beloved and satirized.

Gumby could leap into books, transporting him – along with Pokey and the rest of us – into literature and history. Gumby met George Washington, became a race car driver and an astronaut, all while battling the kind of trouble-making blockheads found everywhere.

You could call the flexible Gumby the first transformer, sans the mass destruction. Like "Avatar," Gumby took us to new worlds. We were happy to go along for the ride, even if the more earthy Pokey spent the adventures grumbling and spouting practicalities.

Clokey's genius was tapping into the childhood spirit of make-believe, where a cardboard box could become a spaceship before there were spaceships. In the early years of TV, amid fears the tube would turn children into passive automatons, Clokey made Gumby malleable enough for young viewers to project their own impressions onto him.

"Kids like Gumby because all the details aren't filled in for them," Clokey wrote in the forward to "Gumby: The Authorized Biography of the World's Favorite Clayboy," published in 1986. "Kids can put themselves into it and imagine all kinds of things with Gumby."

Clokey provided a healthy dose of humor and surreal whimsy to keep the adults watching, presaging the multi-level appeal of "Bullwinkle" and "Sesame Street." His style also presaged what would become the trippy sensibility of the 1960s: "Gumbasia," Clokey's 1953 experimental stop-motion animation film and Gumby precursor, stands as an early psychedelic exercise.

Gumby hit TV in 1956 as part of the "The Howdy Doody Show," and struck out on his own a year later in the first of several series. The 200-plus episodes over three decades seeped into the psyche of generations of kids – among them, Eddie Murphy, who lampooned Gumby on "Saturday Night Live" in the early 1980s. "I'm Gumby, dammit!" scoffed Murphy's Gumby, a caustic, cigar-chomping show-biz curmudgeon.

Clokey didn't mind the spoof, which helped spur a Gumby revival. "Gumby has to laugh at himself too," he wrote in 1986.

So check out the "Gumby" clip below for a few fond chuckles and an opportunity to remember Clokey's amazing feat of clay.

Hester is founding director of the award-winning, multi-media NYCity News Service at the City University of New York Graduate School of Journalism. He is the former City Editor of the New York Daily News, where he started as a reporter in 1992. Follow him on Twitter.
Copyright FREEL - NBC Local Media