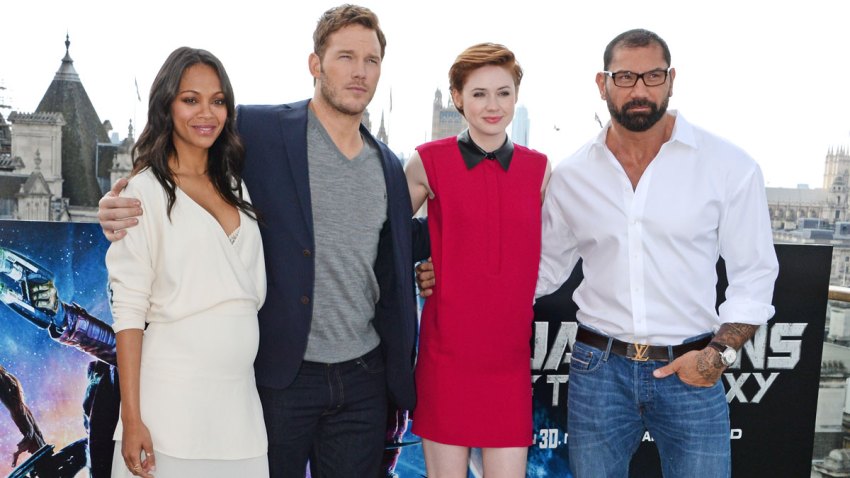 Moviegoers who stuck around after the final credits for "Guardians of the Galaxy" got an Easter egg that hatched a duck: an ornery old friend named Howard.
The "Howard the Duck" cameo came out of nowhere – just like the cigar-chomping character, a source of pre-marriage tension between Marvel and Disney, which fumed over his resemblance to Huey, Dewey and Louie's Uncle Donald.
But "Guardians" and "Howard" are long-lost kin: both cult-favorite Marvel comics that became rare movies attempting to mine intergalactic adventures for laughs.
Howard infamously laid an egg in his 1986 cinematic debut. "Guardians" unexpectedly took off, becoming the third top-grossing flick of 2014, setting a high bar for sci-fi humor – and for itself.
The series returns Friday with "Guardians of the Galaxy Vol. 2" aiming to inject more much-needed comedy into outer space and theaters as it ignites an early blastoff to the summer movie season.
The Marvel movie universe, one of film's most powerful forces, emits its own strain of humor. But Spider-man-spun wisecracks aside, no one went to superhero films, pre-"Guardians," expecting a comedy.
The surprise hit plowed a path for the likes of last year's "Deadpool," an ultra-violent laughter whose gore and success proved a double shocker.
"Guardians" presented a more palatable serving of oddball characters: green butt-kicker Gamora (Zoe Saldana), illustrated strongman Drax (David Bautista), sarcastic raccoon Rocket (Bradley Cooper) and vocabulary-limited tree Groot (Vin Diesel). Earth transplant Peter Quill (Chris Pratt), armed with little more than a mix-tape, stood at the center of "The Maltese Falcon"-like plot.
Quill also represented a cuddlier throwback to Indiana Jones and Han Solo, whose banter with Chewbacca added to the "Stars Wars" comedy layer paved by the Laurel-and-Hardy-like droids C3PO and R2D2.
But George Lucas, who produced "Howard the Duck," the first modern-age movie rendering of a Marvel comic, knows better than anyone how hard it can be to make sci-fi funny.
"Guardians" pulled off the trick of going comedy-first better than any special effects-filled action film in movie history. While Groot is sure of who he is, return director James Gunn and his team need to meet now-huge expectations by building on the identity of "Guardians" as a series that delivers laughs and surprises from the opening to beyond the final credits.
Jere Hester is Director of News Products and Projects at the City University of New York Graduate School of Journalism. He is also the author of "Raising a Beatle Baby: How John, Paul, George and Ringo Helped us Come Together as a Family." Follow him on Twitter.
Copyright FREEL - NBC Local Media