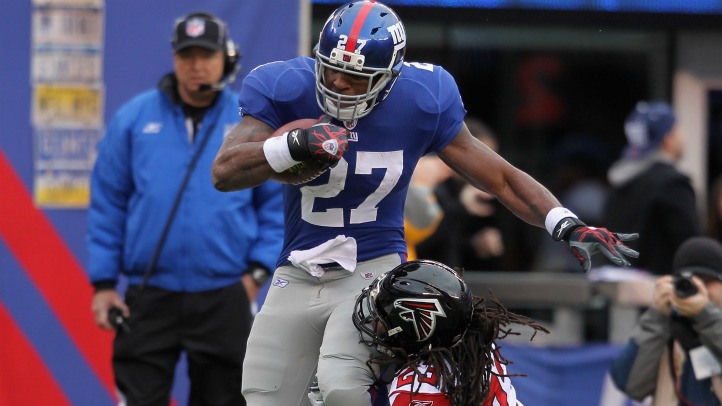 After 17 games, we are all well familiar with the biggest names on the Giants and the roles they play in helping the team win.
Time spent discussing what Eli Manning, Victor Cruz, Hakeem Nicks, Jason Pierre-Paul or Corey Webster have to do to help the Giants advance to the NFC Championship Game is time wasted. If any of those players fail to show up, the chances that this run dies at Lambeau Field increase exponentially.
What is worth discussing is the other Giants who need to show up and play well if the Giants are going to pull off another Green Bay surprise. The Giants will have to get big performances up and down the roster to beat the Packers and the players listed below are at the top of the list of those who need to come up huge on Sunday.
Brandon Jacobs: Seeing Jacobs run against the Falcons was like stepping into Marty McFly's DeLorean and winding up at some point in the past when Jacobs was known for running hard on the field instead of running his mouth off of it. Ahmad Bradshaw might be the better overall back, but Jacobs' style is so punishing that his big runs seem to have a demoralizing effect on the defense.
David Diehl: Diehl has been bad for a couple of seasons now, but there were some signs of the old player against the Falcons last week when he actually did a good job pass blocking for the first time in ages. Manning has done a great job evading rushers and making plays this season, but life will be much easier against the Packers if Diehl is able to ensure his quarterback has time to make plays.
Perhaps a little something from Packers defensive tackle B.J. Raji will fire Diehl up before Sunday. "Not to say they're soft. But it's not the toughest group I've been against."
Linval Joseph/Rocky Bernard/Chris Canty: This trio didn't get nearly enough credit for their work against Atlanta as they totally shut down the run and created havoc in the pocket for Matt Ryan all afternoon. They need to do the exact same thing this weekend.
If the Packers spend extra attention on Pierre-Paul and Justin Tuck (not a given thanks to their preference for maximizing receiving options), the inside group will have to get a tremendous push up the middle to knock Aaron Rodgers out of rhythm. It won't be easy against a group that Pro Football Focus credits with giving up nine sacks on 2,557 passing downs.
Jacquian Williams: Williams had a mixed day against tight end Jermichael Finley earlier this season, including a crucial illegal contact penalty that helped the Packers keep a drive alive late in the game. Williams has done well for a rookie, so there's reason to hope he can negate Finley enough to leave the secondary free to concentrate on the Packers receivers.
Aaron Ross: Ross is supposedly fine after suffering a concussion last Sunday, but even a clear head might not be enough for a player who has been burnt badly many times this season. Rodgers gets rid of the ball so quickly that Ross needs to do a great job even if the Giants generate a ton of pass rush.
Steve Weatherford: The Giants can't afford any special teams mistakes this weekend and that includes shanks from a punter who was good all season before faltering in the last few weeks. Holding Rodgers on a long field is difficult, doing it on a short field is an impossibility.
Josh Alper is a writer living in New York City. You can follow him on Twitter and he is also a contributor to Pro Football Talk.
Copyright FREEL - NBC Local Media