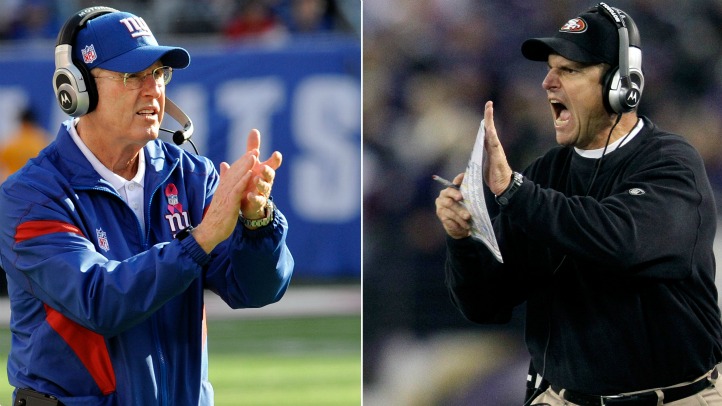 There were 11 new head coaches around the NFL at the start of the 2009 season.
When the Colts fired Jim Caldwell earlier this week, only two of those 11 men were still in their jobs. One of the teams that had a new coach in 2009, the Raiders, has already fired the replacement for the first guy, and the Browns might do the same if they don't show significant improvement next season. Trench warfare in World War I had a better survival rate than that.
That turnover seems significant because there haven't been many coaches who have been fired more often by fans and the media than Tom Coughlin.

You can't flip on New York sports radio powerhouse WFAN on the Monday after a Giants loss without hearing someone, let's call them Rocco from Rockville Center, calling for Coughlin's head. Those calls got very loud in 2009 and 2010 as the Giants missed the playoffs and the polish of his Super Bowl title wore off.
U.S. & World
But the Giants hung with Coughlin, and their patience paid off with this year's run back to the NFC title game.

While you get the feeling that the Giants sometimes express patience simply to be contrarian -- see the coaching tenures of Jim Fassel and Dan Reeves -- there's no question that sticking with Coughlin through his often messy early years and his recent downturn have given the team a stable foundation that's helped birth a couple of unlikely runs deep into the playoffs.
It's strange that more organizations don't have the stomach for sticking things out over the long haul. You constantly hear about what a tough and all encompassing job it is to be head coach of an NFL team, yet teams rush to pull the plug and chase after the new, new thing so often that it is impossible to imagine how they could actually expect any coach to make a significant difference.
Understanding the reasons why they are so jumpy is easy. They need fans to spend money, which requires winning games and requires the media to be supportive of the team's direction. But changing direction so often only serves to undermine those desires.
The Giants have shown patience in other areas. Plenty of teams would have blown up their offensive line a long time ago, and there isn't another team in the league that wouldn't have fired special teams coach Tom Quinn the moment DeSean Jackson took a punt back for a touchdown to end their season in 2010.

General manager Jerry Reese just stuck with the players at hand when free agency and injuries depleted the Giants roster before the season, and the team never wavered when they lost four straight games to put their playoff hopes in doubt after midseason.
In the 49ers, they are meeting a partner in patience. Yes, the Niners were one of those teams with a new coach in 2009, and much has been made about the way Jim Harbaugh has exceeded expectations in his first year as the coach, but he has done it with players that were, for the most part, already on the roster when he arrived.
Alex Smith is the most notable of these players. -- there's no bigger argument in favor of patience in the entire NFL, but there are plenty of others sprinkled around the lineup. Plenty of teams make radical changes when a new coach comes on the job, something that further erodes the notion that there's any larger plan to what they're doing in the front office.

The 49ers made additions, but they highlighted what was already on the roster and refused to concede a year to "changing the culture" just because that's what's expected when you change coaches.
There's more. Justin Smith might have been the best defensive player in the league this year and the Bengals, noted arbiters of talent, let him walk away as a free agent in 2008 after several productive years. He's stepped his game up since getting to San Francisco, a reminder that you don't get far producing players and then kicking them out the door just when they hit their peak.

Yes, Smith got expensive, but good players get expensive, and only the impatient think that someone better is walking in the door to replace them.
Teams that make a lot of changes to their staff or their roster like to make it seem like they are doing the hard work of team building. In reality, that's the easy part. It's flashy and about winning the headlines.

What's hard is sticking with something you believe in even when critics are popping up all around you to tell you why you're an idiot for trying to do things that way.
On Sunday, those critics will be silent.
Copyright FREEL - NBC Local Media