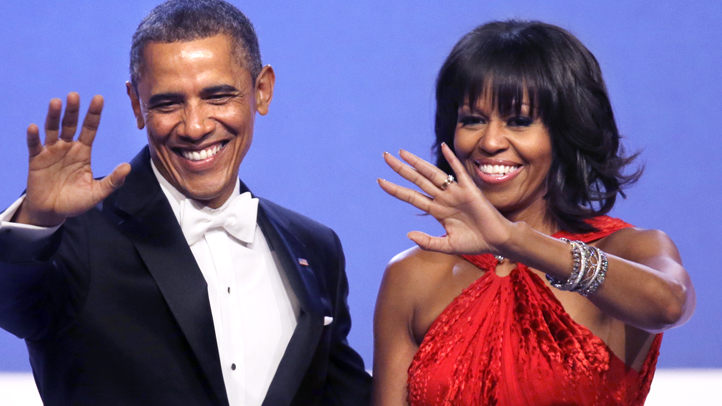 Jay Pharaoh, channeling President Barack Obama while opening the latest "Saturday Night Live," told the American people the stark truth about what sequestration cuts will mean: "From now on, my wife Michelle will only do four television appearances a week, down from her usual 75."
The seemingly silly fusses underscore the first couple's tricky relationship with a force that's helped and occasionally hurt them: the power of pop culture.
It's a force employed frequently by the Obamas. Barack Obama almost certainly has made more entertainment show appearances than any sitting president, parking himself next to Jay Leno, David Letterman and Jon Stewart, while rising to "slow jam" the news with Jimmy Fallon. The president showed up on "Mythbusters" and visited "The View" with his wife.
The segment went viral but didn't get anywhere near the instant worldwide exposure of her unexpected – and somewhat puzzling – Academy Awards role, in which she declared "Argo" Best Picture, via live video. The gig handed detractors fuel to reignite claims that Hollywood is too cozy with the Obamas, even if then-First Lady Laura Bush made a taped guest shot during the 2002 Oscars. Political criticism aside, Michelle Obama's Academy Award performance felt out of place, especially the odd juxtaposition of pairing her with Jack Nicholson.
The first lady said last week she wasn't surprised by the negative chatter – and offered a rare glimpse into her thoughts on how the public judges her, particularly in a snark-happy online age.
This first couple, perhaps like no other before, recognizes the value in using the entertainment sphere to dominate that conversationn – while campaigning and, in the case of Michelle Obama, while promoting her hallmark cause.
As we await the First Family of Pop's next move, check out the SNL spoof and Michelle Obama's number with Fallon, which includes a dance called the "reel it in":
Hester is founding director of the award-winning, multi-media NYCity News Service at the City University of New York Graduate School of Journalism. He is the former City Editor of the New York Daily News, where he started as a reporter in 1992. Follow him on Twitter.
Copyright FREEL - NBC Local Media