The high winds relented and allowed Mikaela Shiffrin to make her much anticipated debut at the Pyeongchang Games on Thursday (Wednesday night in the U.S.) Longtime women's hockey rivals, Canada and the U.S., faced off and the Florida high school shooting left pairs skaters distraught. Here are the Pyeongchang Games by the numbers.
1 Mikaela Shiffrin finally got her chance to compete and came in first in the giant slalom, winning her second career Olympic gold medal. Shiffrin, 22, captured the gold with a combined time of 2 minutes, 20.02 seconds. Noway's Ragnhild Mowinckel earned silver and Italy's Federica Brignone took bronze.
Shiffrin could be going for gold in as many as four events at these Games; she has bowed out of the super-G or super giant slalom. She was a favorite in the giant slalom and will be in the slalom, scheduled for Friday (Thursday night in the U.S.) But skiing two races in two days shouldn't be a problem for Shiffrin — World Cup races are often held on consecutive days.
35 At 35 years old, Norway's Aksel Lund Svindal is the oldest-ever Olympic gold medalist in Alpine skiing after winning the men's downhill at the Pyeongchang Games on Thursday. Svindal, one of Norway's "Attacking Vikings," bested the defending champion, Austria's Matthias Mayer, who came in ninth. Svindal's winning time was 1 minute, 40.25 seconds, 0.12 seconds faster than Norwegian teammate Kjetil Jansrud, who took silver. Beat Feuz of Switzerland took bronze; Team USA's Bryce Bennett finished in 16th place.
Svindal is three months older than Austrian Mario Matt was in 2014 when he won the Olympic slalom. The oldest Olympic medalist in Alpine skiing is Bode Miller, who won a bronze in the super-G at age 36 at the Sochi Games. Svindal said afterward that this was likely his last Olympics.
15 Married pairs figure skaters Alexa Scimeca Knierim and Chris Knierim skated with heavy hearts after learning of the school shooting in Florida and finished 15th in the final. Germany won gold, China took silver and Canada earned bronze. Germany's Aliona Savchenko won her first gold medal, in her fifth Olympic appearance, with a new partner, Bruno Massot. Although the Knierims became the first Americans to land a quad twist in an Olympic competition, the rest of their program did not go as well. They were out of synch on their combination spin and shaky on their throw triple flip.
The couple said they found it difficult to focus after hearing of the deadly Florida high school shooting at Marjory Stoneman Douglas High School in Parkland, northwest of Miami. Seventeen were killed, and the death toll could rise. Alexa said she was "emotionally drained" as she broke down in tears after the performance.
2-1 The women's hockey team from Canada beat the U.S. team 2-1 by scoring twice in the second period. The rivalry between the two teams is fierce. Four of the five women's hockey finals in Olympic history were played between the U.S. and Canada. Both teams are guaranteed a spot in the semifinals of these games and so this match was about pride. It was also likely a preview of the gold medal game, because both teams are heavily favored in the semifinals.
48:3.8 Johannes Thingnes Boe of Norway captured the gold medal in the biathlon's men's individual competition in Pyeongchang, South Korea. The Norwegian biathlete finished 48 minutes, 3.8 seconds in the 20 kilometer and won despite having two penalties of his own. The gold is Thingnes Boe's first Olympic medal.
Slovenian biathlete Jakov Fak took the silver, finishing just 5.5 seconds behind Thingnes Boe, and Austrian Dominik Landertinger earned bronze. Biathlon is the only Winter Olympics sport that the United States has yet to medal in.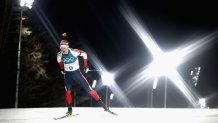 5 of 6 France's Pierre Vaultier defended his gold medal in men's snowboard cross, becoming the second athlete to win back-to-back gold medals. Australia's Jarryd Huges earned silver and Spain's Regino Hernandez took bronze. American snowboarders Nick Baumgartner and Mick Dierdorff finished fourth and fifth after crashing on the same jump during the big final. And their semifinal was chaotic: five of the six racers crashed.