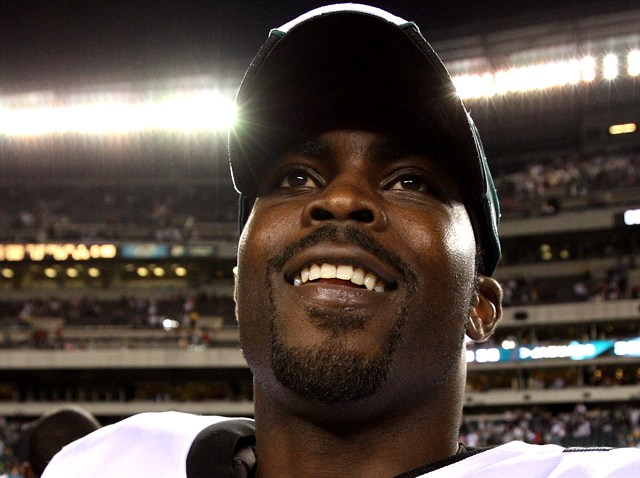 Michael Vick will be fully reinstated by the NFL for the Eagles' week 3 game against the Kansas City Chiefs, according to NFL commissioner Roger Goodell.
Vick and Goodell sat down for 45 to 50 minutes Thursday morning to discuss the QB's future, ESPN reported. The timing of the meeting made sense considering that the NFL offices are in the Big Apple and the Birds were already in the area to play the Jets Thursday night.
Vick couldn't play in any regular season games until Goodell gave the nod, which happened Thursday afternoon. Previously, Goodell said he would consider Vick for full reinstatement by no later than Week 6.
ESPN's Sal Paolantonio reported that Coach Andy Reid and team President Joe Banner both gave the commish routine updates on how Vick was progressing on and off the field.
"Commissioner Goodell and Michael had a very productive meeting this morning and we're pleased to have Michael reinstated early in the season," Banner told Philadelphia Eagles.com. "Michael has done everything we have asked thus far during his time in Philadelphia and we look forward to getting him on the field…"
Paolantonio said Vick and Goodell already talked on a weekly basis, according to a league source, because the commissioner wanted to hear Vick give his own progress report before he decided the QB's future.

"A lot of those issues I'm focusing on are off the field," Goodell said on Tuesday "How is he dealing with the transition? Does he have his family relocated? Does he have the right people around him helping him make decisions?" Goodell said. "Tony Dungy's been incredibly helpful. Donovan McNabb's been helpful."
The move gave the Birds a chance to mold their 53-man roster before Saturday's cut down. Vick only missing two games could mean that the Eagles ship out back up QB A.J. Feeley before the rosters are cut.

Quarterback Kevin Kolb is set to start in Thursday's last preseason showing against the Jets and Vick is also expected to get some good playing time.
And, mark your calendars: Vick soars for the first time with the Eagles at home on September 27.

Copyright AP - Associated Press