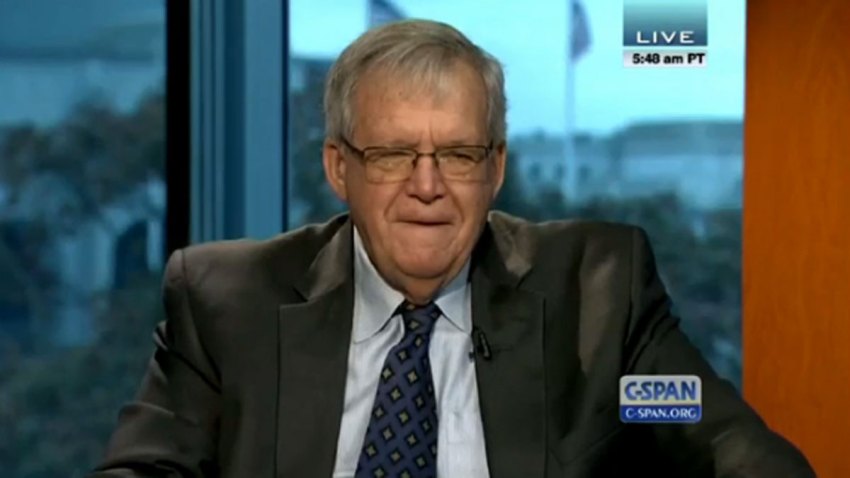 Video posted to a "MyC-SPAN" account on Thursday of a phone call former House Speaker Dennis Hastert received during an appearance on the network has raised questions as to whether there's any link between the call and the federal charges brought against Hastert.
The Washington Journal episode aired on a Nov. 13, 2014, one week after the midterm elections. The caller identified himself only as "Bruce" from Illinois.
"Hello, Denny," the caller said.
"Do you remember me from Yorkville?" he added, before laughing and hanging up.
"Yeah, go ahead," said Hastert.
"I think he's gone," said C-SPAN host Pedro Echevarria before moving onto the next caller.
Hastert on Thursday was charged with making regular regular withdrawals from his bank accounts below a limit that would require reporting and then lying to federal officials when asked about those withdrawals. The Department of Justice and IRS allege Hastert, 73, withdrew $1.7 million from various banks between 2010 to 2014 and provided the funds to an unnamed person "to compensate for and conceal his prior misconduct."
The indictment did not specify the alleged misconduct or identify "Individual A" other than saying the person was someone from Yorkville, Illinois, where Hastert was employed as teacher and wrestling coach from 1965 to 1981. District officials on Friday said they had no knowledge of any alleged misconduct.
A federal law enforcement official on Friday afternoon told NBC News the misconduct involved an alleged sexual relationship between Hastert and a former male student at the school.
"The Hill" newspaper noticed the video after it was posted to the C-SPAN website.