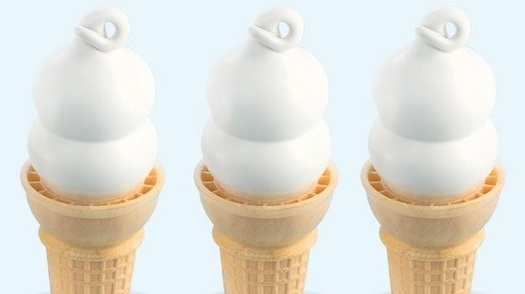 So many intriguing mysteries surround a certain longtime purveyor of cold treats that we hardly know where to begin our story.
1. Does Dairy Queen have an actual throne, castle, and courtiers who wear velvet breeches and play trumpets?
2. How does one get to be known far and wide by just their initials -- in Dairy Queen's case, the snappy and now-iconic "DQ" -- in a world flooded by attention-catching foodstuffs and restaurant choices?
3. What will the founded-in-Illinois company do for its big 75th, which falls in 2015?
We know the answer to that one, as do the people you'll see queuing up at participating Dairy Queens across the land on Monday, March 16. The frozen treat shop, founded in 1940 near Chicago, will celebrate by handing out soft-serve vanilla cones on Free Cone Day at all participating Dairy Queens.
There are more fun things to come during Dairy Queen's diamond anniversary year, but bet Free Cone Day will be mighty popular, especially around Southern California, where a March heat wave is putting ice cream lovers in an ice cream state of mind.
Oh, we jest; true ice cream lovers maintain a permanent second address in that state.
So is there a hashtag for all of this frosty fun? It wouldn't be #2015 if there wasn't: #conewithme is your go-to, social media enjoyers.
Is there a limit on how many cones you can pick up? Of course there is: You may have one. You'd cock an eyebrow at the person leaving with twenty free cones in front of you, wouldn't you? Fairness is best in all things, including Free Cone Day.
And one more mystery we'd like to solve while we're delving into all things DQ: How does the vanilla soft-serve cone get that perfect little twirl on the top? And how does one recreate that in a hairstyle? Asking, of course, for a friend.
Copyright FREEL - NBC Local Media