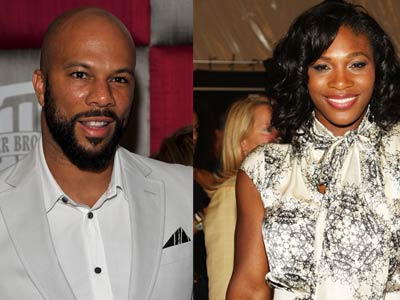 Common and Serena Williams' love game is over, according to Us Weekly.
The mag reported that the tennis champ and hip-hop star have called it quits. The reported reason behind the split? — their busy careers.
VIEW THE PHOTOS: Hottest Hip-Hop Stars!
"They are two workaholics who couldn't see each other enough," a source told the mag. "Things happen."
The news comes as Serena and sister Venus hit the courts at Roland Garros for the 2010 French Open, where Serena – who is top-seeded in the tournament for both singles and doubles (partnered with Venus) – has already notched first-round victories in both categories.
VIEW THE PHOTOS: Divorce! Break-Ups! Hollywood's Most Famous Former Couples
Just a month ago, Common laughed and smiled to Access Hollywood's Shaun Robinson when Serena's name came up at the junket for his latest film, "Just Wright."
"Beautiful, intelligent woman, fun and spiritual woman," he said. "I think she's an incredible person."
Asked how serious the relationship was, he told Shaun, "There's no rings here right now."
VIEW THE PHOTOS: Love Connection: Celebs & Athletes
"I've been enjoying myself," he explained, leaving the marriage option open. "I'm just living and learning and growing. Right now, I'm still a single man, in a way, when it comes to marriage."
And in an appearance on "The Ellen DeGeneres Show" earlier this month, he also opened up about their relationship, telling Ellen, "Serena and I have been close for about two years."
VIEW THE PHOTOS: The Latest Star Sightings
He added that he'd "love to get married and have kids," though he didn't say use Serena's name in that statement.
Copyright 2010 by NBC Universal, Inc. All rights reserved.
This material may not be published, broadcast, rewritten or redistributed.
Related Content from AccessHollywood.com:
PLAY IT NOW: Queen Latifah On Handpicking Common For 'Just Wright' & Taking On Her First Love Scene
PLAY IT NOW: Dish Of Salt: Ellen DeGeneres On Simon Cowell Leaving 'American Idol' - 'He Can Cry In His Money'
More from Access: [ Common Former Couples Ellen DeGeneres ]
Copyright NBCAH - Access Hollywood