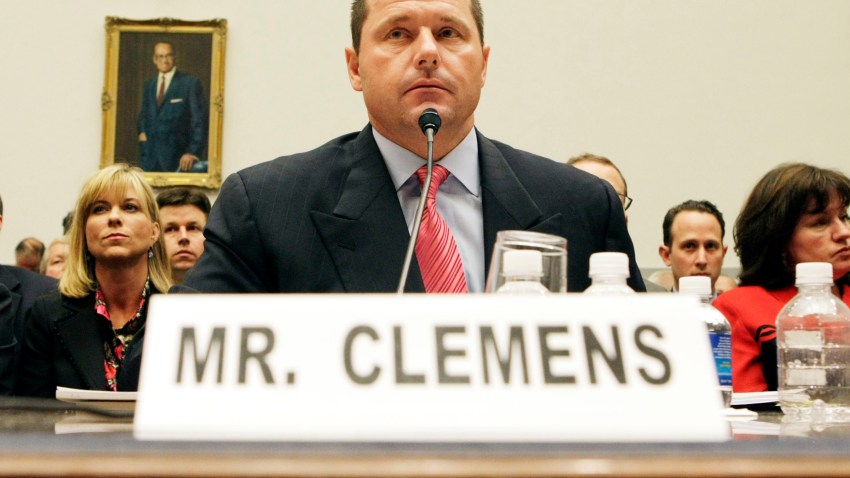 A former personal trainer who claims to have injected seven-time Cy Young winner Roger Clemens with steroids and HGH testified for two hours before a grand jury probing whether the pitcher lied when he said he never juiced.
Brian McNamee had no comment as he left a federal courthouse in Washington. The grand jury could decide to indict the former superstar for lying under oath to Congress when he claimed he never took performance enhancing banned substances.
"Everything is fine," McNamee's lawyer Richard Emery said as he led his client from the building.
The grand jury has been meeting for nearly a year and a half and is reviewing Clemens' testimony before a Congressional committee in 2008.
In the Mitchell Commission's report, a study ordered by Major League Baseball to probe steroid and HGH use in the sport, McNamee said he personally injected Clemens and fellow Yankees pitcher Andy Pettitte, along with former Yankees second baseman Chuck Knoblauch, with performance-enhancing drugs.
McNamee told the Commission that Clemens asked him in 1998 to inject him with the steroid Winstrol, which McNamee did. Later, Clemens asked McNamee about another steroid, Anadrol-50. Clemens, who had previously appeared washed up, won 41 games and two Cy Young Awards in the following seasons. He was traded to the Yankees in February 1999, and McNamee was put on the team's payroll.
He was later let go by the team, but when squeezed by investigators, reportedly produced syringes with Clemens' DNA that his attorneys claim prove his assertions.
Clemens continues to deny ever using performance enhancing drugs.