Travelers apparently desperate to make it to Chicago's O'Hare International Airport on Tuesday morning abandoned their rides and walked along the side of the expressway -- with luggage in tow -- only to be turned away by airport security.

The last-ditch effort was an attempt to escape a massive traffic backup caused by flooding in the area and traffic attempting to merge onto one lane.

"There's absolutely no way into the airport. So here we go," said Jami Cloud, who was trying to make a 7:30 a.m. flight. "We tried to take a cab and then started walking. ... We've been in traffic for about two hours and weren't going anywhere."
Sharon Rogers was stuck in her car during the time her flight to New Jersey was to board.

"Fortunately we are rescheduled for another flight at 11:50 [a.m.] so hopefully I'll get to Philadelphia today and then get to New Jersey," she said while trying to remain positive.

Her trip east is to spend time with her ailing mother, she said.

But some of those who tried to walk to the airport were turned away by security before they even set foot in the facility, leaving frustrated would-be travelers trying to reconnect with the rides that were still stuck in traffic.

"They just said, 'Get back in your cars,'" said traveler John Cain.

Heading to the airport, just one lane of Interstate 190 was open at Mannheim Road. Even worse, for those attempting to leave the airport, all lanes of eastbound 190 were blocked just east of the property until 8 a.m. with Illinois Department of Transportation Crews detouring drivers to northbound Mannheim Road.

On Twitter, some O'Hare pilots and crew members were posting messages indicating they were also stuck in the traffic jam.

IDOT crews were called in with snow plows to attempt to move the standing water left from Monday night's dual line of storms. IDOT officials late in the day said six of seven pumps at a new pumping station failed, allowing water to pool on the roadway.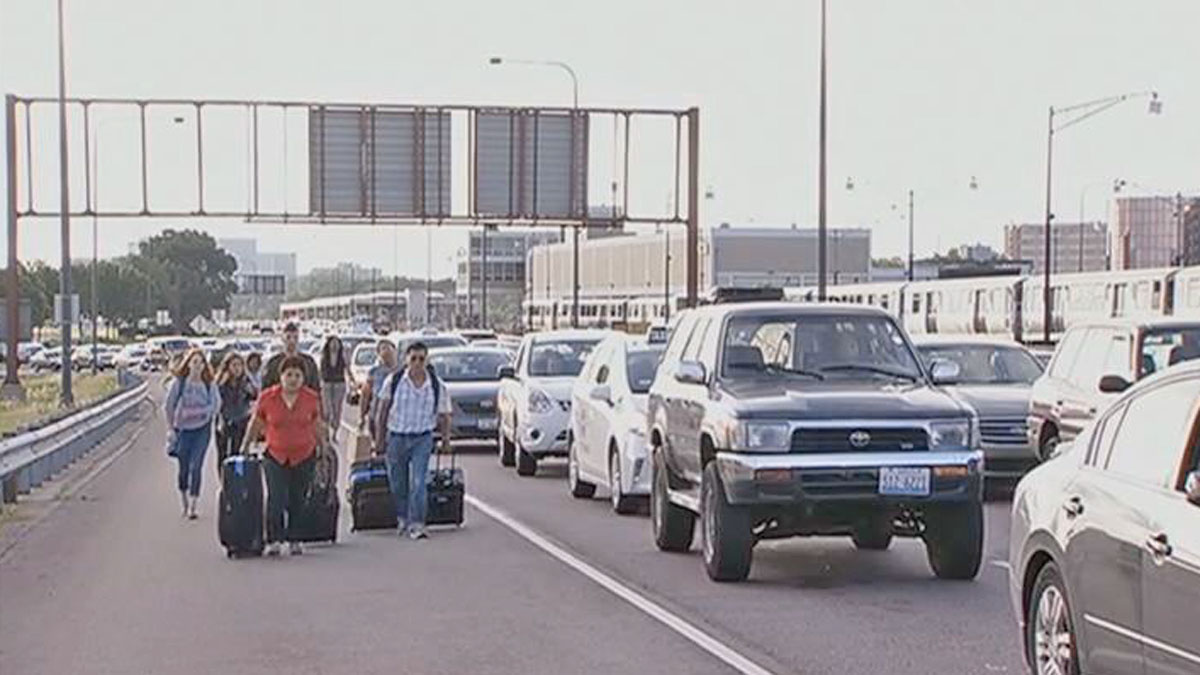 Snow plows were used to clear the standing water.