In the nine years since Pamela Montgomery-Bosley's 18-year-old son, Terrell, was shot to death outside a Chicago church as he unloaded drums with a bandmate, she has been afraid that her other sons will be killed too.
She worries about them playing basketball outside, walking around, even sitting on the porch and if she could afford to, she would leave Chicago, she said.
"We should have a safe community like everybody else," she said.
Already outspoken about the bloodshed that is ravaging Chicago's South and West sides, Montgomery-Bosley joined an unconventional lawsuit filed over the summer to try to staunch the flow of guns into the city. Rather than sue the gun shops that Chicago officials say supply a disproportionate number of the weapons recovered at crime scenes in the city, the lawsuit uses a state civil rights law to target the suburban villages where three of the four gun shops are located. Brought by the Coalition for Safe Chicago Communities and others, it accuses the villages of discriminating against the city's African-American residents by being lax in the regulation of gun dealers.
"We want our kids to be able to come outside and play and go to school and feel safe like everybody else, like other communities," Montgomery-Bosley said. "We're fighting for our civil rights."
The verdict last week in another lawsuit, a rare ruling against the gun industry, has encouraged Montgomery-Bosley and other activists. A jury found that a gun shop in Milwaukee was negligent when it sold a pistol to a straw buyer — a man who stood in for the 18-year-old too young to legally buy a firearm — and it awarded two police officers badly wounded by the gun more than $5 million in damages. It was an egregious case in which a videotape showed the actual purchaser pointing to the gun he wanted and prompting his older friend as he filled out a form.
Both sides of the gun debate are watching to see whether the verdict spurs more challenges to the industry. The gun shop, Badger Guns, is expected to appeal.
"When dealers know that they could be liable for not taking common-sense steps to making sure that guns don't get into the wrong hands, that will hopefully dry up the supply of illegal guns a little bit at least," said Mike McLively, a staff attorney at the Law Center to Prevent Gun Violence in San Francisco. "We'll see what happens. It's definitely not over yet."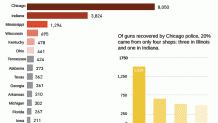 Court action against the gun industry was more common before Congress passed the Protection of Lawful Commerce in Arms Act in 2005, at the urging of the National Rifle Association. The law was meant to end lawsuits trying to hold gun manufacturers and dealers liable for negligence when their weapons were used in crimes. It bans such suits except in cases involving defective weapons or if a dealer knowingly violates laws governing the sale of a gun.
The Milwaukee decision was the first jury verdict since the law was passed, McLively said. Another pending lawsuit to watch, he said: the one against Bushmaster Firearms International, the maker of the rifle that Adam Lanza used to massacre 20 first-graders at the Sandy Hook Elementary School in Newtown, Connecticut.
"If there were to be a victory there, in addition to what's happened now in Milwaukee, I would definitely say that there's some momentum building," he said.
A lawyer representing Montgomery-Bosley and the others, Sean Morales-Doyle, said the verdict was a good sign about where preventing gun violence was headed although it was reached on a different approach.
"We're happy to see that there's a growing concern about straw purchasers and preventing sales to straw purchasers," said Morales-Doyle of Despres, Schwartz and Geoghegan. "So it's obviously a very similar issue to what we're trying to address in our case. We're addressing it from a different angle."
The coalition's lawsuit, based on the Illinois Civil Rights Act of 2003, argues that the lives of African Americans in the most affected areas are endangered by the guns being sold in the villages of Riverdale, Lyons and Lincolnwood. The villages' policies have turned their neighborhoods into virtual war zones, while white neighborhoods are safe, their lawyers argue. The illegal trafficking of guns keeps residents isolated and fearful, and depresses the value of their homes.
Morales-Doyle says the law does not require them to show intent.
A study done last year by the city of Chicago, "Tracing the Guns: The Impact of Illegal Guns on Violence in Chicago," found that 60 percent of guns recovered in crimes in Chicago between 2009 and 2013 were first sold in other states, many with weaker gun laws. Indiana, Mississippi and Wisconsin topped the list.
The three gun shops in the Chicago suburbs — Chuck's Gun Shop in Riverdale, Midwest Guns in Lyons and Shore Galleries in Lincolnwood — and another in Gary, Indiana, supplied nearly 20 percent of guns found at Chicago crime scenes, amounting to thousands of guns. The stores are all within a short drive of Chicago.
"By contrast, during that same time period, the average number of guns traced back to all other gun stores was three," the report says.
Just this weekend, six people were killed in the South and West sides.
Much of the violence is driven by gangs, officials say. The death toll of the weekend before last included a 3-year-old boy accidentally shot in the head by his 6-year-old brother during a game of cops and robbers. The boys' 25-year-old father, who is charged with child endangerment, told police that he was a former member of the Spanish Cobras gang who bought the gun for protection. It was stashed on top of the refrigerator
The Chicago Tribune, which has been tracking shootings in the city, reported after the weekend that at least 415 people had been shot to death this year, up from 356 last year.
Homicide rates in some parts of Chicago have fallen, but by neighborhoods not across the whole city, the coalition's lawsuit notes in legal papers filed late last week. Maps posted by Daniel Kay Hertz, a senior fellow at City Observatory, a think tank devoted to data-driven analysis of cities, show that from 2008 to 2011, the North Side of Chicago had a homicide rate of less than 6 per 100,000. Meanwhile, neighborhoods on the South and West sides got more dangerous — a few with rates up to 70 per 100,000.
The lawsuit asks that the villages require the gun shops to do more to keep guns out of Chicago: background checks on their employees, training for employees to identify straw buyers, alarm systems and other measures to deter theft, alphabetical logs of the sale of guns later associated with a crime, refusal to deal with customers who recently bought guns used in a crime, inspections of store inventory and video cameras to record sales.
"People who care about the issue need to take creative and untried approaches to get at this problem," said Locke Bowman, the executive director of the MacArthur Justice Center at the Northwestern University School of Law. "There isn't any doubt that the prevalence of guns, the ease with which folks can acquire guns, connects to the unacceptable levels of violence in which guns are involved."
The villages have asked that the lawsuit be dismissed.
Steven M. Elrod, a lawyer with the firm Holland & Knight, which is representing Lincolnwood, said the courts cannot be used to mandate action from a legislature, which is what is being asked.
"We appreciate the concern that the plaintiff has concerning gun violence," he said. "We do not agree with the procedure that they are using to reach their goal."
Midwest Guns had no comment and the other two stores did not respond to telephone messages.
Chuck's Gun Shop has been the site of protests by the Brady Campaign to Prevent Gun Violence as part of its campaign against "bad apple" gun dealers. It is among the 5 percent of gun dealers in the country that supply 90 percent of the guns in crimes, according to organization.
The Rev. Michael L. Pfleger, the senior pastor of St. Sabina Church on the city's South Side, said he and others had long tried to convince Chuck's Gun Shop to better regulate its sales and help stop the carnage in the city.
"We're just saying you've got to stop worrying about money and worry about being responsible," he said.
George A. Mocsary, an assistant professor at Southern Illinois University School of Law and a co-author of "Firearms Law and the Second Amendment: Regulation, Rights, and Policy," said that he expected the coalition's lawsuit to be dismissed because it did not show any irregularities with the sales as was the case in Milwaukee. That the gun shops in the villages provided more of the guns found at crime scenes did not prove anything by itself, he said.
"These were some of the larger stores in the suburbs," he said. "So if you're a larger store, if more volume goes through your store, inevitably given that guns come from somewhere, comparatively more will come from your store just by virtue of being a bigger business."
The executive director of the Illinois State Rifle Association, Richard Pearson, also argued that the lawsuit had no merit.
"You can bring it under anything you want, if it has no merit, it has no merit," he said.
After Montgomery-Bosley's son Terrell died, she offered a $7,000 reward to try to find out who had killed him, but his case remains unsolved. She said she heard that someone playing a joke claimed falsely that he was in a gang. He was attending Olive-Harvey College, a community college that is part of the City Colleges of Chicago, playing his base guitar and working, she said.
Chicago is two cities, she said. If the gun violence were taking place downtown, officials would have found a way to stop it, she said.
"If it wasn't just on the South Side of Chicago and it was downtown and everywhere else, then it's a Chicago issue," she said. "But this is just in our community and I feel like they don't care."