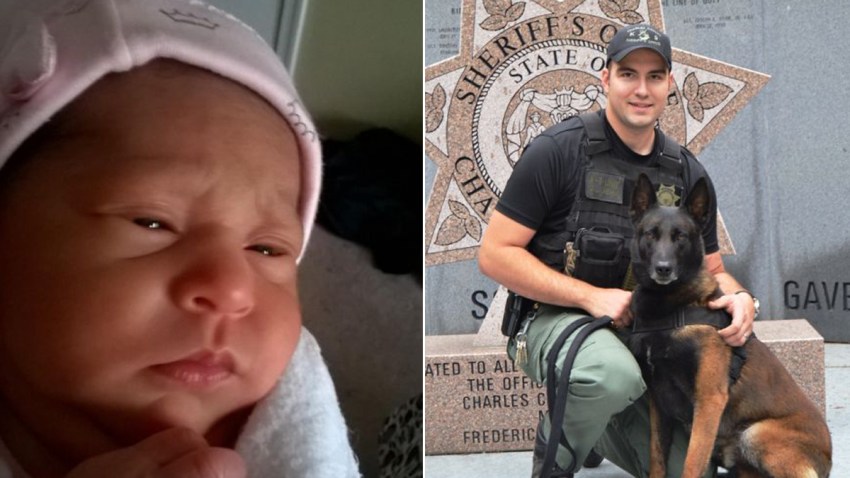 A Maryland sheriff has been credited with saving the life of a 10-day-old baby who was struggling to breathe after a chunk of formula became lodged in her airway.
On July 31, officer Darin Behm responded to a home in the 400 block of Trefoil Place in Waldorf, where a baby girl named Dana was having trouble breathing, according to a release from the Charles County Sheriff's Office.
Behm arrived to the house to find a woman in an upstairs bedroom trying to help the baby breathe. Authorities said the infant's face was red and she was clearly in distress.
After not hearing any sounds of breath, Behm opened the baby's mouth and discovered she was choking on formula. He tilted her head and tried to get the formula out of her airway with his finger, but it didn't work. The family didn't have an aspirator in the home.
Authorities say Behm then placed his mouth over the baby's nose and mouth and gently sucked until a chunk of formula dislodged. The chunk was about the size of a dime, covered in mucus. Behm was able to successfully clear the baby's windpipe.
The baby began to breathe better, and was transported to Children's Hospital as a precaution. She was discharged several hours later.
Dana's mother said she was grateful to Behm, who "took control in a hectic situation" and helped one of her newborn twin daughters.
Behm, who is the father of a 2-year-old boy, said he was focused on opening the baby's airway as quickly as possible.
"I'm glad I was able to help," Behm said. "It's what we do."