Hate crime and kidnapping charges were filed Thursday against four people who Chicago police say bound, gagged and beat a teenager with special needs while broadcasting the attack on social media.
The brutal attack, which had political and racial connotations — the victim is white, and the suspects are black — sent shockwaves across the nation, and was even addressed at the White House press briefing Thursday.
"The actions in that video are reprehensible. That along with racism have absolutely no place in the city of Chicago or anywhere else for that matter against anyone regardless of their race, gender, state of mental health or any other identifying factor," Chicago Police Supt. Eddie Johnson said at a news conference Thursday.
Thirty minutes of the torturous attack were streamed live on Facebook, but authorities said it was a six-hour ordeal that evolved out of a play fight, with the victim beaten, kicked, cut and forced to drink from a toilet.
The victim, who is not being identified, is an 18-year-old with "mental health challenges" from Crystal Lake.
Jordan Hill, 18, of Carpentersville; Tesfaye Cooper, 18, of Chicago; Brittany Covington, 18, of Chicago and Tanishia Covington, 24, of Chicago, were each charged with aggravated kidnapping, hate crime, aggravated unlawful restraint and aggravated battery with a deadly weapon. Hill, Cooper and Brittany Covington also face charges of residential burglary. Hill was also charged with robbery and possession of a stolen motor vehicle.
They are expected to appear in court Friday afternoon; it is not clear if they have attorneys.
The two men and two women were taken into custody Wednesday after being seen violently beating a teenager on Facebook Live. The suspects are black and the victim is white, and one of the suspects suspects allegedly yelled profanities about white people and President-elect Donald Trump during the live video. Police had earlier said they do not "have anything concrete" to suggest the attack was politically motivated, however.
A second potential video in the attack is being looked into by police, showing the group forcing the teen to drink toilet water.
"It's just sickening, sickening," Johnson said Wednesday in reaction to the video. "It makes you wonder what would make individuals treat somebody like that."
Speaking at a news conference Thursday evening, the victim's brother-in-law said the teen is doing "as well as he could be" and asked for "continued prayers for all those involved and for our family's privacy as we cope and heal."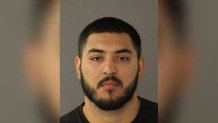 A Facebook spokesperson confirmed the site removed the original video, saying in a statement, "We do not allow people to celebrate or glorify crimes on Facebook."
"In many instances, though, when people share this type of content, they are doing so to condemn violence or raise awareness about it. In that case, the video would be allowed," the statement read.
Authorities believe the teenager knew Hill from school and went with him willingly on New Year's Eve after meeting at a suburban McDonald's. They allege Hill stole a van and picked the victim up from the Streamwood restaurant, ultimately bringing him to the city, 50 miles from his home, police said.
The victim's parents knew the teen would be spending the night with a friend, but reported him missing the next day, police said.
It wasn't until Tuesday police said the attack happened and the teen was able to escape before police found him in the 3400 block of West Lexington "bloodied," "battered," and "discombobulated."
He then led the police back to the nearby home where he was tortured.
"I just can't believe anybody would do that to someone, especially a special needs child," the victim's grandmother told NBC.
Streamwood authorities also say the suspects had been sending the victim's parents text messages while holding him hostage.
"This is going to affect him for probably the rest of his life," the teen's grandmother said.