By the time the two evacuees from California's North Bay wildfires reached Ronit Rubinoff's house in Sebastopol Sunday morning, the women had slept in their car in a grocery store parking lot, put up at an animal shelter and bunked with strangers.
It would have been a harrowing experience for most anyone. But the six days were exceptionally tough for 72-year-old Deborah Sawyer and 86-year-old Mildred Liles.
"I didn't have any place to go," Sawyer said Monday afternoon.
For now, they can stay with Rubinoff through a quickly arranged emergency house-sharing program in Sonoma County, which is pairing those left homeless by the fires with those who have rooms to spare.
The program had already made 75 matches over the weekend and was amassing piles of applications as fast as volunteers could fill them out.
Five hundred homes were available from people throughout the area, up and down the California coast, outnumbering the families who had so far sought shelter.
Someone called to offer a campground, and that's where 22 members of the Huntington Fire Department who arrived to help will stay.
"It's very rewarding," said Amy Appleton, the executive director of SHARE Sonoma County, the permanent house-share program for older residents on which she based the emergency one. "We are genuinely helping people who are severely traumatized. You're trying to give them some sense of stability while they try to figure things out."
The deadliest wildfires in California history, which have been burning for more than a week, killed at least 41 people and destroyed nearly 6,000 homes. About 34,000 people remained under evacuation Tuesday, down from 40,000 on Monday.
Housing was already in short supply in hard hit Sonoma County, where rental vacancy rates fell from 5.8 percent in 2011 to 1.8 percent in 2015, and homeowner vacancy rates dropped from 2.2 percent to 1 percent. The county grew by 30,000 people between 2006 and 2015, but added only about 11,000 housing units.
Across California the statistics aren't more forgiving. One research company, Beacon Economics, found that in 2014, California ranked 49th in the country in homeownership and was last in affordability.
The Sonoma County SHARE program is meant to keep older homeowners in their homes by finding younger tenants who can help cover the costs of utility bills or mortgages. The emergency program will draw on that model by helping the evacuees to find the services they need, and it is already setting up a corps of volunteers to make weekly calls to ensure the shares are working smoothly.
"It's hard to live with anybody in any kind of situation, even harder when they're stressed," said Elece Hempel, the executive director of Petaluma People Services Center, where the program is based.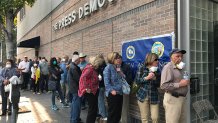 Outside The Press Democrat building in Santa Rosa over the weekend, where a relief center had been set up, lines stretched of people waiting to register for assistance from the Federal Emergency Management Agency and other state and local agencies.
Jane Matthew and her husband were among them, their house in Santa Rosa destroyed in the flames. They and her 91-year-old mother are staying with their son but need somewhere more permanent nearby and were considering trying the home-sharing program for help.
"We literally only had five minutes to get out," she said. "Smoke was everywhere. We got an emergency call to leave because we had a landline. If we haven't got the landline — anybody who had a cellphone in the neighborhood did not get that phone call."
Matthew, 58, who runs a daycare center for the Santa Rosa schools, has already visited some of the children in the shelters and knows how traumatized they are. She said one told her, "My house blew up."
"I want to get back to work," Matthew said.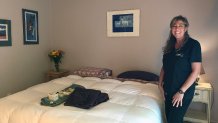 Rubinoff, 52, who is the executive director for Legal Aid of Sonoma County, had spent a day at the relief center answering legal questions and was already foreseeing problems with renters facing price gouging and efforts to push them out of their homes.
"We're expecting a big spike in renter-related issues," she said.
Kayaks lined her driveway, emptied out of the house to make room for Sawyer and Liles. She is turning over her bedroom to them and will sleep in another room or camp out in her backyard.
"It seems like everybody I know has someone in their house, and it's the right thing to do," she said. "How can one sit in one's house with all this room when there are people sleeping in campsites and shelters? It's unconscionable."
[NATL-BAY]'Looks Like a War Zone': Santa Rosa Neighborhood Destroyed in Wildfires
Tautuiki Uluilakepa and his family had been staying at a shelter in a high school in Sebastopol, but it was closing and they needed a new place quickly. Meanwhile, 68-year-old Steve Kay had watched the disaster unfold and had wondered what he could do. On Sunday, he was offering three bedrooms in his home in Petaluma to Uluilakepa, his wife, who is a caregiver for the elderly, their 19-year-old son and an older man who lives with them.
"This is just so heart-rending for everybody who lost their homes in this tragedy, and because I have three bedrooms I really wanted to see if I could keep a family intact," Kay said. "The worst thing is to have people separated for any length of time."
Kay, the author of a marketing and business newsletter for the U.S. meat industry, is originally from New Zealand. Uluilakepa, a self-employed mason who built a patio and retaining wall at the house he had rented in the Coffey Park neighborhood of Santa Rosa, is from Tonga. When they met, the men drew on their shared connection to the South Pacific.
"I already know we don't have anything left," Uluilakepa said. "I didn't know I already had a brother here."
[NATL-BAY GALLERY]North Bay Wildfires: The Smoldering Aftermath
Uluilakepa had woken his family when he smelled the smoke and hurried them out of the house, even as the older man resisted leaving.
"I tell him, 'You better listen to me,'" Uluilakepa said. "I said, 'Right now, we have to go.'"
They drove south to Rohnert Park and waited until daylight, when Uluilakepa returned by himself to see that they had lost everything.
"You're thinking about the next day, what is your next move, where are you going?" Uluilakepa said.
Sawyer and Liles had their own frightening escape from their mobile home retirement community, The Orchard. They fled when a neighbor rang the doorbell to warn them to leave.
"I looked behind him and there was a fire," Sawyer said. Sawyer helped Liles dress and they fled without their medications, driving for an hour before Sawyer became too tired to go further and pulled into the parking lot of a Raley's supermarket. They slept in their car for three nights before finding room at an animal shelter with other people, plus goats, horses, burros and dogs.
At one point, looking for a temporary shelter at the Sonoma County Fairgrounds, Sawyer almost drove through a barricade and hit a police officer. He found another officer to drive them to safety.
"People were just completely wonderful, giving us shelter and help, taking care of us," Sawyer said.
Sawyer and Liles have been together for 40 years and married four years ago. Sawyer worked as a postal worker for 20 years, Liles is a retired high school teacher and a U.S. Army veteran, and they moved to The Orchard from Monte Rio along the Russian River. Their mobile park was badly damaged but their home is standing, and Sawyer wants to return.
"Tragedies and disasters bring people together," Kay said. "That's why we're in this world, to help each other."