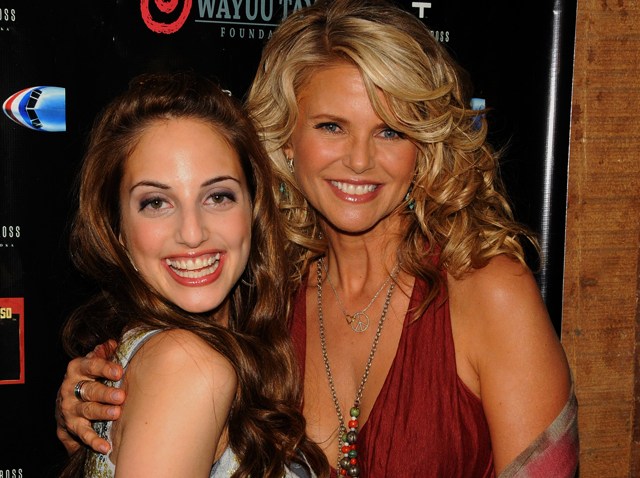 Christie Brinkley felt the pain when her daughter Alexa Ray Joel had a broken heart late last year.
But the former covergirl's daughter with Billy Joel needed more than parental guidance, and Brinkley told her to get help from an expert, the 56-year-old Uptown Girl said in the July issue of Ladies Home Journal.
"Your job as a parent is to listen. And to dole out as much love as you can. That includes tough love," said Brinkley. "I told Alexa, You got yourself worked into such a tizzy. You need to examine that, you need to seek professional advice."
The younger Joel overdosed back in December after a traumatic breakup with her band's bass player Jimmy Riot. Brinkley herself has a fair dose of heartache in the public eye. She's been married four times.
"I think many people can relate to that excruciating pain of love gone wrong. I'd rather have a broken arm than a broken heart," the former supermodel told the magazine.
"She tried to do something dramatic to prove to her boyfriend how much he hurt her," Brinkley adds. In the magazine, she said that her daughter, 24, had only taken aspirin, ruling out suicide rumors that have circulated since the incident.
A flashback to 2008, involving Brinkley's fourth husband Peter Cook's pricey payoff and real estate in the Hamptons, is quite the contrast to what her relationship with Joel has been. They divorced in 1994.
"With Billy, I'm dealing with a decent human being, a good guy. He'll come for dinners; we'll go to his shows," she said.
Their daughter is now in therapy and focusing on a new ad campaign for Prell shampoo, a brand that Brinkley once represented.
"I've never seen her quite so radiant as she was coming home from her photo shoot for Prell," said Brinkley.