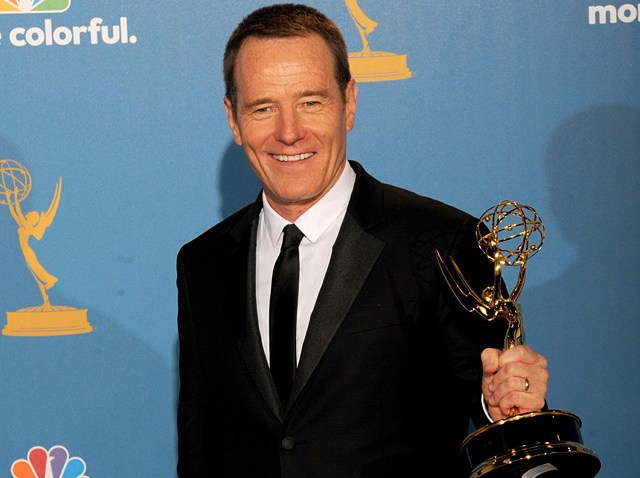 "Breaking Bad" star Bryan Cranston was breaking in as a guest-host on "Saturday Night Live yesterday
He admitted during his monologue that he isn't a household name despite winning Emmy Awards for his performance on "Breaking Bad." Cranston then poked fun at himself by singing a "Music Man"-like number although the lyrics in the song misidentified his last name.
Among Cranston's roles in some of last night's sketches included a kissing/hugging host on a '70s kids game show, and as Billy Ray Cyrus, the dad of Miley Cyrus (played by newcomer Vanessa Bayer), on her talk show program. He and Fred Armisen played a loungey-schmaltzy singing brother duo performing a song whose only lyrics are: "I sent a bottle of sparkling apple juice to your house/Did you get it?"
The new season of "Saturday Night Live" also marked the return of "What Up with That?", a gospel-styled talk show. Guests on the show included actors Morgan Freeman and Ernest Borgnine as themselves along with Fleet wood Mac guitarist Lindsey Buckingham (portrayed by Bill Hader). When Freeman tried to answer a question about the school system, he was interrupted by a gospel number sung by the host (Kenan Thompson) and accompanied by an entourage of dancers and hangers-ons.
Other highlights of last night's installment included Rahm Emanuel's departure from the White House, an appearance by the comic strip character Cathy on Weekend Update, and a commercial hawking Pepto-Bismol Ice.
Musical guest Kanye West turned in two strong performances against a minimalist bright white backdrop featuring no live band. Decked out in a red outfit and chains, and accompanied by female dancers decked out in leotards and tutus, West first sang "Power," (which samples King Crimson's progressive rock song "21st Century Schizoid Man") and later "Runaway."
Next week's host on "Saturday Night Live" will be "Glee" actress Jayne Lynch; the musical guest is Bruno Mars.