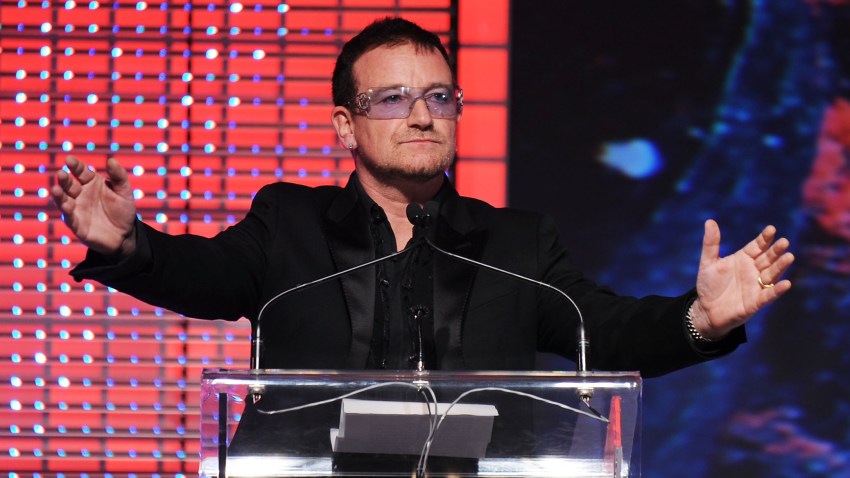 Yoko Ono recently took out an ad in The New York Times declaring, "War is Over! If You Want it!" If the sentiment seemed familiar, that's because it appeared on billboards around the world, in a campaign sponsored by Ono and her husband, John Lennon, 40 years ago last month. The phrase, of course, also is part of the couple's 1972 song, "Happy Xmas (War is Over), which has become a holiday standard.

A week after Ono's anniversary ad in The Times, the paper published the latest op-ed piece from occasional guest columnist Bono, who offered a somewhat less terse vision for the future.

In a Top Ten-style article, part whimsical, part deadly serious, the U2 frontman and social activist floated ideas for the next decade, calling for everything from sexier cars to support for a developing cancer treatment. He also advocated for increased rotavirus vaccinations, stronger intellectual property right laws protecting artists from Internet file-sharing ripoffs and trumpeted a politician-free festival celebrating Judaism, Christianity and Islam.

He acknowledged the somewhat scatter-shot nature of his agenda: "They [the ideas] have little in common with one another except that I am seized by each, and moved by its potential to change our world."

The juxtaposition of Ono-Lennon campaign anniversary and Bono's message for the next decade is striking, in both the similarities and differences.

Both, of course, illustrate using celebrity as a platform for advocacy. Lennon, the first major rock star to put himself on the line for a cause, tended to speak in slogans – "War is Over," "Give Peace a Chance" ("We're trying to sell peace, like a product, you know, and sell it like people sell soap or soft drinks," he said in 1969).

Bono is more wide ranging in his causes and more, well, verbose, bordering on times at what some critics would call pomposity, which he tries to head off with self-deprecation. "I don't speak for the rest of the world," he noted in a previous Times op-ed. "Sometimes I think I do — but as my bandmates will quickly (and loudly) point out, I don't even speak for one small group of four musicians."

The world is both bigger and more connected than in Lennon's day, thanks to a revolution in communications and a greater recognition of common global interests, even if nations are divided by wealth, resources and vast differences of opinion on how to solve shared problems.

Bono's best moment in his Sunday op-ed, is his most Lennon-like: "I'll place my hopes on the possibility — however remote at the moment — that the regimes in North Korea, Myanmar and elsewhere are taking note of the trouble an aroused citizenry can give to tyrants, and that people in places filled with rage and despair, places like the Palestinian territories, will in the days ahead find among them their Gandhi, their [Martin Luther] King, their Aung San Suu Kyi."

In addition to placing the Times ad, Ono put the iconic "War is Over" poster on Flickr in some 70 languages (including Klingon), encouraging people to print out the placards and display them. Lennon chronicler Jon Wiener notes in The Nation that the posters also will appear this month on top of some 160 New York City cabs.

"Small Pebble People are people who know that small pebbles, when they're dropped in the ocean, will immediately affect the ocean of the whole wide world," Ono wrote on the Flickr page, in very Yoko-like prose.

"Don't throw a big stone. It scares people and creates repercussions. Just drop a small pebble. We'll keep doing it. Together. That's how the world gets changed...by Small Pebble People. We change, and the world changes."

The pebble can be rock. Bono picks up where Lennon started, showing the power of rock-and-roll as a positive social force, peddling peace and hope. He's also, like Lennon, unafraid to take a chance on looking foolish while using music to propagate ideas beyond primal, three-chord odes to love, lust and rebellion (not that there's anything wrong with those).

Bono is a great performer with a great heart, even if he sometimes goes overboard mixing music with shoutouts for favored causes and for politicians during concerts.

We'll judge him by his words – and his actions – with the ONE and (Product)RED efforts. Bono may be a dreamer, but like Lennon, he's not the only one.
Hester is founding director of the award-winning, multi-media NYCity News Service at the City University of New York Graduate School of Journalism. He is the former City Editor of the New York Daily News, where he started as a reporter in 1992. Follow him on Twitter.
Copyright FREEL - NBC Local Media